ABC Machinery is engaged in designing, manfuacturing and installing a large range of palm oil production equipment and spare parts. We offer a variety of palm oil machine. To ensure the premium quality and performance of our equipment, all the raw materails used in the manufacturing process of palm oil production equipment is of high quality. With rich experiences, advanced palm oil processing (extraction and refinery) technologies, our palm oil manufacturing equipment ensures the high international standards of final extracted oil products.

Contact us now to get the detailes of our palm oil machines and cost of establishing a customized full scale palm oil mill company. Any questions will be replied within one business day.
---
Palm Oil Production
Final Crude Oil and By-products of Palm Oil Production
With the help of palm oil production machine or equipment, palm oil is extracted from the fruit of the oil palm 'Elaeis guineensis' and palm kernel oil is derived from the seed of the oil palm. Palm oil has been used as a primary cooking ingredient in most countries as it contains less cholesterol compared to conventional cooking oil. Palm oil use for daily activities has been widely advocated due to its lower costs and also its high oxidative stability when used in cooking. Palm kernel cakes, which are the leftovers of the palm fruit after extraction has been done is also very useful. Palm kernel cakes are widely used as animal feed for cattle for fattening and supplementary feeding due to its high protein content. It can also be used as a source of biomass to fuel up boilers for generating electricity.
Choose Suitable Equipment for Your Mill
The primary part of the industry would be the extraction of the palm oil from the palm fruit by use of palm oil production equipment. For this particular purpose, specific machines known as oil expellers are used to derive the oil from the seed. The machine consists of an expeller and a screw press machine with a pressing chamber where palm seeds are fed. (Read more: Customized Palm Oil Processing Business Plan)
About Palm Oil Production Machine

This is a delicate process where palm oil equipment used pressure and friction from the screw press to transport as well as compress the palm fruits. Oil is then processed from a small opening to prevent solid materials or residue of the seeds from contaminating the extracted oil. The leftovers of the palm fruits are then processed out form the other end as palm oil cakes.
Threshing Station
Steam Generation

Boilers

Bi-Drum Boilers

Combi Boilers

Fluidized Bed Boilers

Boiler Water Treatment

Pressing Station
Power Generation

Digester

Press

Vibrating Screen

Diesel Genset

Steam Turbine

Clarification Station
PKO (Palm Kernel Oil) Extraction

Desanding Cyclone

Pumps

Vertical Clarifier

Sludge Separator

Continuous Decanter

Rotary Brush Filter

Vacuum Oil Dryer

Purifier Centrifuge

PKO Press

Hermetic Filter

Filter Press

Grinder

Fibre and Kernel Separation

Empty Bunch Processing



Ripple Mill

Vibrating Feeders

Novenco Fans

Fiberizer

Single Barrel Press

Break Cutter Press
Contact us now to get the detailed info about our palm oil production equipments and latest cost of setting up a full scale palm oil mill.
Choose a suitable palm oil production machine can help mills and companies achieve an optimum oil yield at low operating costs while incurring less direct costs. In Asia, ABC Machinery has established reputation of producing reliable and efficient palm oil processing equipment with different specifications to cater to different industry requirements.
Process of Palm Oil Production Plant
Let's see how the oil is extracted from fresh palm fruits step by step by use of different palm oil production equipment. Palm Trees have to be picked. It is actually the seeds that contain the oil. These seeds are then crushed in a Mill and separated by process systems to produce something called CPO (crude palm oil).
Once the mill is satisfied with the quality of the oil it can be transported to refineries (palm oil refining equipment). If it is being transported by land it will most likely be kept in large containers on trucks. These trucks will deliver the product to refineries who will process it even further into purer oil. When palm oil is being delivered to refineries it is either sampled manually or goes through electronic "palm oil quality monitors" CPO Refineries are always watching the price of the commodity which is also traded on the stock market so timing can be important.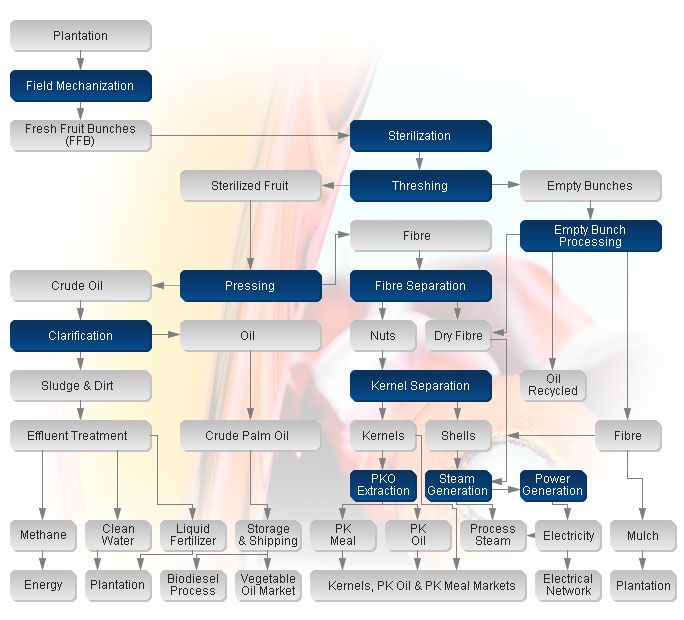 Full Process of Palm Oil Production
Finally, these refined products are sold to agents and distributors in smaller quantities who then use the palm oil as a base product or a component of goods that will be found on supermarket shelves and used in homes.
Palm competes with other types of oil such as Canola and Sunflower Oil. The distribution of palm oil and palm oil related products will depend mostly on the preferences of end manufacturers of products which also can be influenced by consumer preferences. Palm for cooking is highly respected in countries like Thailand, Malaysia and Indonesia where it is commonly found in restaurant food. There are many benefits to using Palm Oil in these locations but one of the major benefits is that it will be competitively priced compared to other types of vegetable oil which might be costlier to import.
---
Palm Oil and Palm Kernel Oil Pressing Factory
Palm oil production is With the rise of people's living standard as well as economic and society, the advantages of palm oil is discovered by more and more people, making palm oil production including palm oil extraction and refinery one of the most popular business plan in recent years, eapacially in Malaysia, Indonesia, India, Nigeria, Philippines, Thailand, Balikpapan, Kenya and so on. We are reliable manufacturer and supplier of palm oil mill equipment who can offer tailor-made palm oil processing business plan with high quality palm oil production equipment sell at cost effective price. Feel free to contact us now for more details of our palm oil machines and projects! We are ready to serve you!
I want to start up a small Palm oil processing factory and I desire to know the basic equipments I need, the model and prices of the equipments and how to get it.
Good day, the equipment for a small scale palm oil processing plant includes thresher, digester, oil press machine, oil filter machine, belt conveyor, screw conveyor, etc. We supply all palm oil processing machines and the price list and model have sent to your given email, any questions, please contact us directly.
Hello, we are looking at the possibility of establishing a small scale palm kernel oil production plant. Kindly furnish us with non-budgetary costs, including equipment lists for a 5t and a 10t plant. The provisional plan is to site the plant in Abia State, Nigeria.
Hello, sir. We can supply compete palm kernel oil production plant from 1tpd to 400 tpd. A 10 tons per day palm kernel oil production line will cost about is $ 60,000 around. The required equipment is palm kernel crushing and separating machine, palm kernel oil extraction machine, oil filter machine, palm kernel oil refining machine, etc. However, the exact cost probably vary according to your requirements.
By the way, our company will visit Nigeria every year. Our engineers can help you on the factory design, but you have to make reservations in advance, so we can arrange the schedule.