Palm Oil Processing Equipment
ABC Machinery is engaged in designing, manfuacturing and installing a large range of palm oil production equipment and spare parts. We offer a variety of palm oil processing machines to set up all scale palm oil mill plant. To ensure the premium quality and performance of our equipment, all the raw materails used in the manufacturing process of equipment is of high quality. With rich experiences, advanced palm oil processing (extraction and refinery) technologies, our palm oil milling machine ensures the high international standards of final extracted oil products. Contact us now to get the detailes of our palm oil machines and cost of establishing a customized full scale palm oil mill company. Any questions will be replied within one business day.
Palm Oil Production
Final Crude Oil and By-products of Palm Oil Production
With the help of palm oil production machine, palm oil is extracted from the fruit of the oil palm 'elaeis guineensis' and palm kernel oil is derived from the seed of the oil palm. Palm oil has been used as a primary cooking ingredient in most countries as it contains less cholesterol compared to conventional cooking oil. Palm oil using for daily cooking activities has been widely advocated due to its lower costs and also its high oxidative stability. Palm kernel cakes, which are the leftovers of the palm fruit after extraction has been done is also very useful. Palm kernel cakes are widely used as animal feed for cattle for fattening and supplementary feeding due to its high protein content. It can also be used as a source of biomass to fuel up boilers for generating electricity. (Related Post: Cost of Palm Oil Processing Machine >>)

Palm Oil Production Equipment for Palm Oil Milling Business
The primary part of the industry would be the extraction of the palm oil from the palm fruit by use of palm oil production equipment. For this particular purpose, palm oil extraction eequipment, known as oil expellers, are used to derive the oil from palm fruits. The machine consists of an expeller and a screw press machine with a pressing chamber where pretreated palm fruits are fed. The detailed palm oil mill process and equipment is as follows.

This is a delicate process where palm oil equipment is adopted to extract the crude palm oil. It is more suitable for large scale turnkey palm oil processing plant. Some of our customers may needs mini scale or small scale palm oil production equipment to help them enter into this industry as a starter. Therefore, we also develops small scale palm oil extraction machines that has small capacity and requires less investment cost. The mini palm oil processing plant we provides is about 1~20 tons per day. If you are interested in it, please contact us to get the latest quoation!
Main Palm Oil Production Machines at Factory Price
Threshing Station
Steam Generation

Boilers

Bi-Drum Boilers

Combi Boilers

Fluidized Bed Boilers

Boiler Water Treatment

Pressing Station
Power Generation

Digester

Press

Vibrating Screen

Diesel Genset

Steam Turbine

Clarification Station
PKO (Palm Kernel Oil) Extraction

Desanding Cyclone

Pumps

Vertical Clarifier

Sludge Separator

Continuous Decanter

Rotary Brush Filter

Vacuum Oil Dryer

Purifier Centrifuge

PKO Press

Hermetic Filter

Filter Press

Grinder

Fibre and Kernel Separation
Empty Bunch Processing



Ripple Mill

Vibrating Feeders

Novenco Fans

Fiberizer

Single Barrel Press

Break Cutter Press
Above listed all the palm oil production equipment needed for palm oil processing. In actual condition, the equipment selection is closely related to capacity, process, budget, etc. If you have no ideas about how to choose the suitable machines for your palm oil processing factory. Please seek advices from professionals, don't make decision easily. Choose a suitable palm oil production machine can help mills and companies achieve an optimum oil yield at low operating costs while incurring less direct costs. In Asia, ABC Machinery has established reputation of producing reliable and efficient palm oil processing equipment with different specifications to cater to different industry requirements.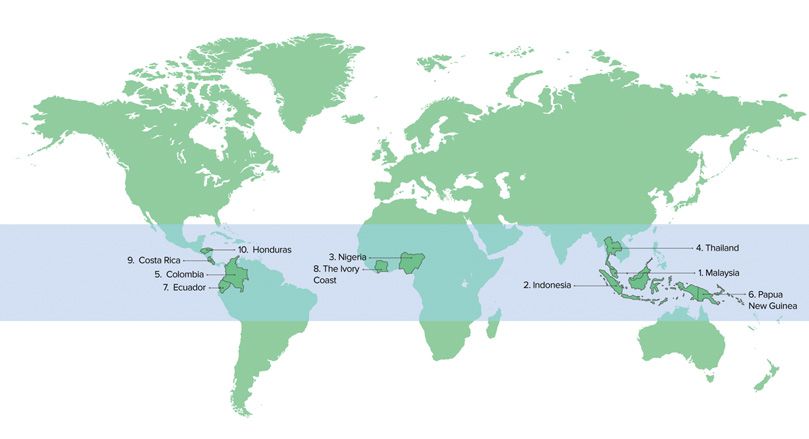 Geographic Distribuiton And Ranking of Global Palm Oil Producing Nations
How to Choose Palm Oil Processing Machines
ABC Machinery, an expert in palm oil milling, here provides some advice for your reference when you are going to buy the palm oil processing equipment.
The prerequisite to start palm oil milling business or setup palm oil factory is the capacity. You should have a clear ideas about how many tons you plan to produce. Capacity can decide the equipment, investment cost, process and more
Choosing the most advanced palm oil production process. The advanced process and technology can greatly help you increase the productivity and save operation cost
Searching for the most reliable manufacturer or supplier
If possible, it is better to visit the actual palm oil mill plant in person. Then you can have a clear idea about how the palm oil is made

Palm oil industry is definitely profitable for now and future. So, how to start palm oil business? If you are interested in it, please tell us more details about your requirements, then we can provide you the perfect service and high quality equipment.
Palm Oil Production Process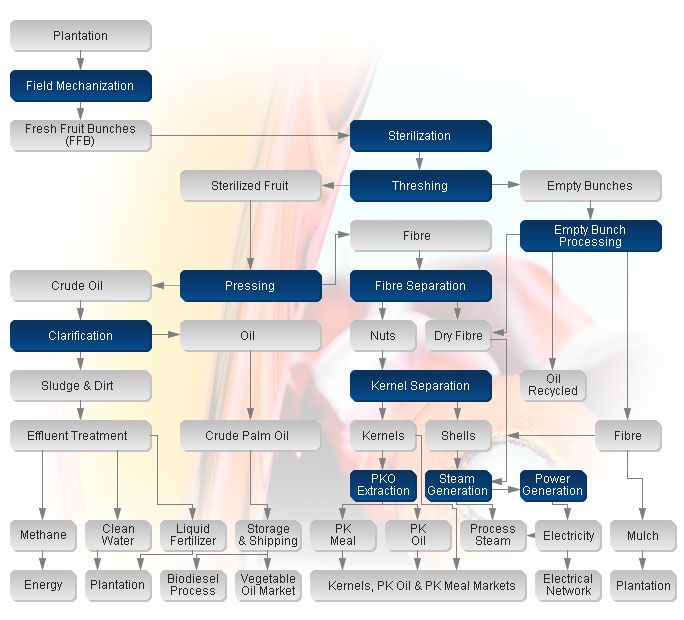 Full Process of Palm Oil Production
Palm Fruit Reception & Storage: The workers receive the fruit and transport it to the factory for weighing. Then pour into the palm fruit slope and store. When palm oil production needed, open the discharge door and palm fruit will fall to the conveyor to be delivered to the sterilization section.
Palm Fruit Sterilizing: Use high temperatures to prevent further rancidity of the palm fruit. The fruit was steamed for 30 minutes at 300KPa, which reduced the enzyme activity and prevented the acid value from rising.
Palm Fruit Threshing: Palm fruit accounts for 60% of the palm fruit bunch. This section is widely used for rotating cylinders to separate palm fruit.
Fiber and Kernel Separation: This section mainly destroys the skin and separates the flesh and kernel of the palm. Crush the flesh of the palm, destroy the nucleus, and prepare for the next press.
Oil Pressing: Screw palm oil press is a common press equipment. After pressing, a mixture of oil and water can be obtained and pressed cake (fiber cake).
Crude Palm Oil: A filter is used to separate the fibers in the wool oil. The oil and water are then separated by precipitation. After separation, the crude oil was filtered and vacuum dried to obtain palm crude oil.
Palm Oil Refining and Fractionation: In order to have high quality palm oil and palm oil in different uses, palm oil refining process and fractionation process is required.

Finally, these refined products are sold to agents and distributors in smaller quantities who then use the palm oil as a base product or a component of goods that will be found on supermarket shelves and used in homes.


Palm Fruit Palm Oil
Hot Palm Oil Production Market
► Palm Oil Processing Plant Cost in India
► Palm Oil Processing Machine Price in Nigeria
► Palm Oil Business in Ghana
► Malaysia Palm Oil Production
► Palm Oil Company Indonesia
Advantages of Starting Palm Oil Business
The distribution of palm oil and palm oil related products will depend mostly on the preferences of end manufacturers of products which also can be influenced by consumer preferences. Palm oil for cooking is highly respected in countries, like Thailand, Malaysia and Indonesia where it is commonly found in restaurant food. There are many benefits to using palm oil in these locations but one of the major benefits is that it will be competitively priced compared to other types of vegetable oil which might be costlier to import. That is also the driving force of the prosperity of palm oil industry. (Related Post: Palm Oil Processing Business Plan >>)
Palm Oil and Palm Kernel Oil Pressing Factory
With the rise of people's living standard as well as economic and society development, the advantages of palm oil is discovered by more and more people, making palm oil production (palm oil extraction and refinery ), one of the most most worthwhile project to invest in recent years, eapacially in Malaysia, Indonesia, India, Nigeria, Philippines, Thailand, Balikpapan, Kenya and so on.
We are reliable manufacturer and supplier of palm oil mill equipment who can offer tailor-made palm oil processing business plan with high quality palm oil production equipment sell at cost effective price. Feel free to contact us now for more details of our palm oil machines and projects! We are ready to serve you!
I want to start up a small Palm oil processing factory and I desire to know the basic equipments I need, the model and prices of the equipments and how to get it.
Good day, the equipment for a small scale palm oil processing plant includes thresher, digester, oil press machine, oil filter machine, belt conveyor, screw conveyor, etc. We supply all palm oil processing machines and the price list and model have sent to your given email, any questions, please contact us directly.
Hello, we are looking at the possibility of establishing a small scale palm kernel oil production plant. Kindly furnish us with non-budgetary costs, including equipment lists for a 5t and a 10t plant. The provisional plan is to site the plant in Abia State, Nigeria.
Hello, sir. We can supply compete palm kernel oil production plant from 1tpd to 400 tpd. A 10 tons per day palm kernel oil production line will cost about is $ 60,000 around. The required equipment is palm kernel crushing and separating machine, palm kernel oil extraction machine, oil filter machine, palm kernel oil refining machine, etc. However, the exact cost probably vary according to your requirements.
By the way, our company will visit Nigeria every year. Our engineers can help you on the factory design, but you have to make reservations in advance, so we can arrange the schedule.