Set up a small palm oil milling line with capacity ranging from 1 ton/day to 20 ton/day
Small scale palm oil mill plant generally refers to the palm oil processing production with the capacity below 20 ton per day. We have two small palm fruit processing solutions for your! One is mini palm oil mill plant for 1~10 ton/day factory, and the other one is 10~20 ton/day palm oil milling plant for small and medium-sized factory.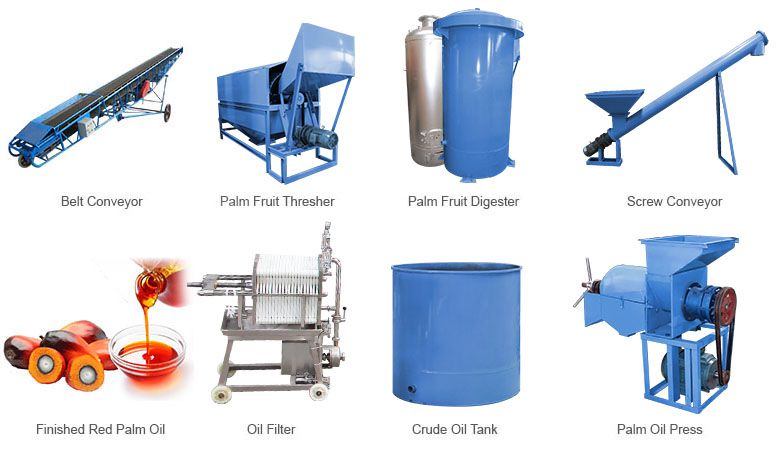 Main Processing Equipments for Crude Palm Oil Mill Plant
The main equipment for small palm oil mill is palm fruits cooking and sterilizing tank, FFB Stripper and screw palm oil press machine. Click the link to see more details of the related palm processing machines.
Small Scale Crude Palm Oil Milling Process
The main processing flow includes Palm Fruits, Threshing, Digesting, Pressing and Filtering. The basic processing section is shown as below:

Oil pressing plant from palm fruit basically includes: fruit threshing, sterilizing / digesting, oil pressing and filtering. Among all these processing sections, oil pressing and filtering must be done by professional facilities (palm oil extractor and oil filter press), while the other sections can be selected depending on your needs and financial status. It is certainly that a complete palm oil mill has higher automatic degree and needs fewer labor. Only 2~3 worker is needed to run the whole line. Besides, it can also avoid the unstable material feeding caused by manual control.
If you are planning to invest in a mini palm oil factory and have limited budget, some machines that can be replaced by manual work is ok to be removed to save equipment cost. For detailed project solution, you are welcome to contact us and tell us your needs. Our professional team will help you make the best project plan and also offer the best price.
Features of Our Small Palm Oil Mill Plant
Save manpower.
Less investment but with full extraction function.
Easy to install and operate.
Process Design of Small Palm Oil Factory
If you are planning to run a small palm oil making factory, here is the factory layout design for your reference: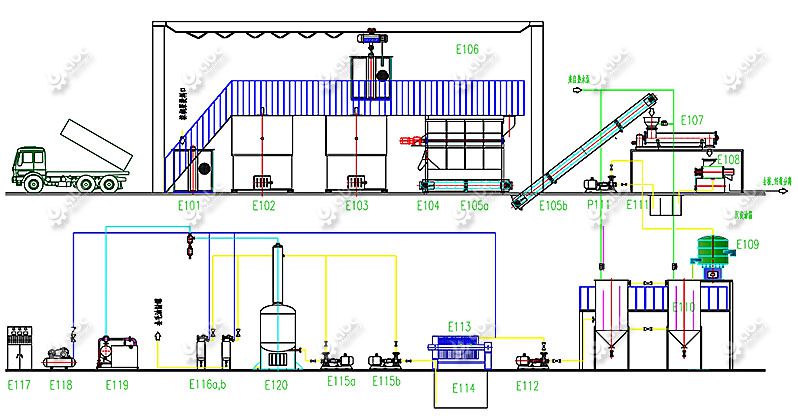 Small Crude Palm Oil Milling Plant Design
What output of palm oil mill do I need?
For most first-time palm oil mill businessmen, they have no idea about yield. So here we offer a way to caculate the production output you might need for your business plan. Palm oil is made from palm fruit or palm kernel. But whatever you want to make, the following calculation methods are all applicable.
There are about 140 palm trees planted per hectare land, and about 20 tons fresh fruits can be produced per tree per year.
In most cases, 12.5% of orchard output are defined as the maximum palm fruit consumption each month.
The producing time should be caculated according to 25 days each month and 20 hours one day.
---
Example: With 2000 hectares plantation, the production output of palm oil mill you need to build is:
2000 x 20 x 12.5% / 25 / 20 = 10 ton/hour
The Profit Margin of Palm Oil Mill
For a commodity that is sold in the global market, one tonne of palm oil costs about $550 (173,000 in Naira). So what is the expected profit margin of selling palm oil? Well, if a good machine is used during the extraction process in a small scale palm oil plant, about 25 % of oil is usually extracted from the fruit bunch and this means that in order for you to produce 10 tonnes of palm oil, you need some fresh fruit bunch of about 40 tonnes. The processing of a single batch including the fermentation process takes about 3-4 days. Taking into account weekends where there isn't any work, you will have around 12 days of a pure palm-oil output and this means that you will have about 120 tonnes of palm oil monthly. Machines, on the other hand, are not usually 100% effective and most of them have 90-95% efficiency. This means you can have around 100 tonnes of oil monthly. As previously mentioned, a tonne costs around $550, therefore the total for a month will be: 100 x $550 = $55,000

Out of that amount, around 40% will be spent on buying palm fruits and about 20% on expenditures such as staff payment, transport, and maintenance among others.
40/100 X $55,000= $22,000
20/100 x $55,000= $11,000
Total Expenditure $11,000 + $22,000 = $33,000
---
The expected profit $55,000 -$33,000 = $22,000. If you are in Nigeria, this is about 7.9 million naira. If you are embarking on the palm oil business, that's the expected profit that you can make monthly.
Please we need a pressing machine and digesting machine for our start up. We also need the cost. Thanks
Hello, dear. Can I have your required capacity? So, we can offer you the most suitable equipment and corresponding price for your reference.
Dear sir/madam,
I would like to inquire about the cost of a small (10mtd) oil palm refinery. Kindly give me idea on how long it can be installed. Shipment should arrive in Davao, Mindanao, Philipoines hence, how much will it cost on transporting the machineries.
Hello, sir. Thanks for your inquiry. The equipment cost and shipping cost of 10 tons per day palm oil refinery plant has been sent to you. The period of installation would be decided by all the required conditions.