Oil palm, a kind of palmaceous plant, is mainly between the SL 5~10° and NL 5~10°. It a kind of important tropic oil seed plant with high economic value. At present, the palm oil is not only popular for edible oil, but also the important source of biodiesel. The main production area of palm oil is: Indonesia, Nigeria, Thailand, Columbia, Cote d'Ivoire, Papua New Guinea, Honduras, Ecuador, Brazil etc.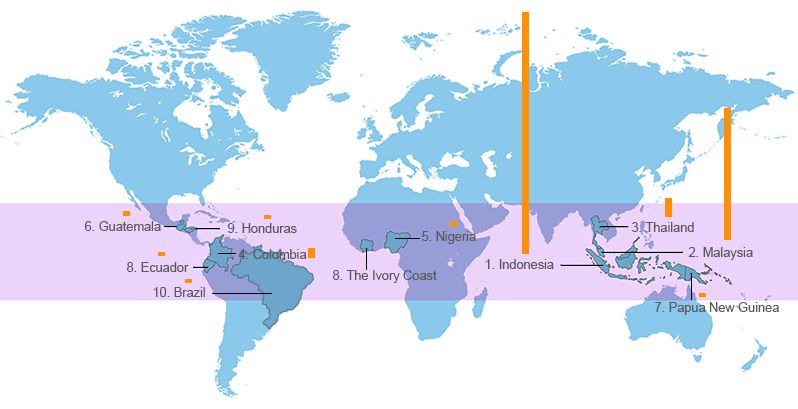 2018 Palm Oil Production by Country

Rank
Country
Production (1000 MT)
1
Indonesia
40,500.00
2
Malaysia
21,000.00
3
Thailand
2,900.00
4
Colombia
1,530.00
5
Nigeria
970.00
6
Guatemala
740.00
7
Papua New Guinea
630.00
8
Ecuador
610.00
9
Honduras
580.00
10
Brazil
525.00
Bright Future of Palm Oil Processing Industry in Nigeria
Technology and energy has been the main focus of the world's development today, therefore, those who have invested in agriculture now have made good profits and their earnings still keep increasing. Although agriculture business bring great profits for many entrepreneurs, few of them dare to venture into one segment - that is palm oil business. See Also: Optimal Business Plan of Palm Oil Processing Mill in Nigeria
Oil Production Market in Nigeria

Oil
Palm Oil & Palm Kernel Oil
Soybean Oil
Rapeseed Oil
Sunflower Seed Oil
Peanut Oil
Cottonseed Oil
Others
Market Share
32.0%
22.4%
13.1%
8.0%
2.1%
2.7%
19.7%
Nigeria was the largest palm oil market between 1950s to 1960s. At that time, its palm oil production had exceeded its domestic consumption, and the exceeded part was exported to the world's market. However, the development of palm oil production was adversely changed after that. There were three main factors that had great impact on the development of palm oil processing mill in Nigeria:
The discovery of petroleum deposit in Nigeria
Nigeria civil war
Traditional and out-of-date palm oil processing machines and techniques.
As a result, Nigeria is no longer the leader of palm oil production in the world. It has been outpaced by Indonesia and Malaysia.
However, the lower palm oil processing or production ability can't match the increasing demand of palm oil, which now provides great opportunity to tap and expand the palm oil processing field in Nigeria and make profits from it.
Setting Up a Palm Oil Processing Mill in Nigeria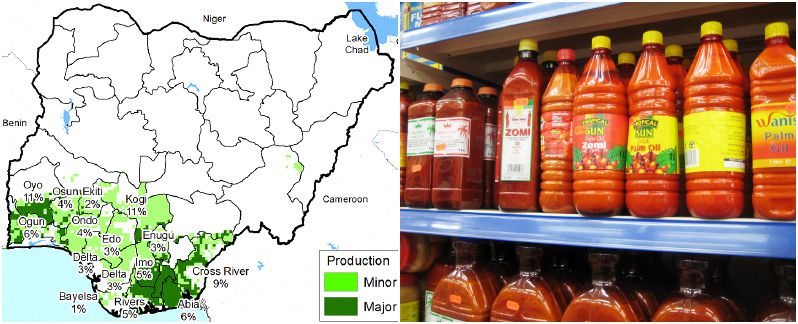 According to World Rain-forest Movement, oil palm was originally planted in the the Nigerian coastal plain and later was migrated to other inland places. So, oil palm is the most important crop in Nigeria. Setting up a palm oil processing mill in Nigeria would minimize the cost on raw material purchase and transportation. What's more, Nigeria has great demand of crude palm oil. It would be very convenient to produce and sell palm oil in Nigeria, which must be a profitable business.
Total Cost of Setting Up a Palm Oil Mill in Nigeria
How much it will cost to set up a palm oil processing mill in Nigeria? Generally, the total cost of establishing a palm oil processing mill plant will be decided by many factors, including: the palm oil processing capacity, the quality and quantity of palm oil processing machines and equipment, the palm oil suppliers and more. Therefore, the exact cost of setting a palm oil processing mill plant in Nigeria would vary from the different requirements and specific situations. The following data is just for reference:
A complete palm oil processing mill plant with a capacity of 50 ton/day is about $ 60,0000, while a full complete palm kernel oil production line with capacity of 10 ton/day is $ 60,000 around.
Note: The exact cost of starting a palm oil milling business in Nigeria depends on the capacity requirments, process design and equipment configuration.
How to Calculate the Capacity of Palm Oil Mill You Need?
Palm Oil is concluding the Fresh Palm Fruit Oil and Palm Kernel Oil. Generally, whatever you want to build the oil plant from fresh fruits or from kernel, you can calculate the capaicty as the following steps:
The oil palm grows very fast, it can harvest fruits about 2~2.5 years after transplanted.
Per-hectare land should plant about 140 palm trees in general, each palm tree can produce about 20 tons fresh palm fruits annually.
Basic the real running condition of the plant, 12.5% of orchard output are defined maximum consumption of raw material each month.
The producing time should be caculated according to 25 days each month. Working time should be 20 hours one day.
---
For example, th palm oil plant capacity for 2000 hectares plantation or orchard is calculated as follow:
2000 x 20 x 12.5% / 25 / 20 = 10 ton/hour
Common Palm Oil Mill Process In Nigeria
Based on our 2018 field trip and analysis of the Nigerian palm oil market, small scale and medium scale production factories show great economic benefits. See Also: Palm Oil Processing in Nigeria
Small to Medium Sized Palm Oil Mill Plant Flow Chart
The typical processes to produce palm oil include palm bunches reception, palm bunches sterilization, palm threshing, palm fruit digestion, palm pulp pressing, palm oil clarification, palm oil drying and palm oil storage and packing.
Palm Fruit Reception

- Harvest the palm fruit from the oil palm plantation and remove the fruitlets

Palm Oil Sterilization

- Use water or steam t for palm fruit sterilization

Palm Oil Threshing

- Separate the palm fruitlets from the bunches by rotation or vibration

Palm Oil Digestion

- Crush the palm fruit to maximize the oil rate

Palm Pulp Pressing

- Utilize palm oil processing machines to extract palm oil

Palm Oil Clarification

- Remove foreign impurities from the final palm oil to get the crude palm oil

Palm Oil Storage

- The final crude palm oil will be stored in specialized tank for further selling or transportation.
Successful Palm Oil Production Line Around the World
The following are some photos about our successful palm oil processing mill constructed in Nigeria and Thailand. If you are interested in getting a customized project plan with a detailed price list, please tell us your capacity and raw material, we can quote you the best price within 24 hours!
2 ton/h Palm Oil Mill Project Built In Nigeria
5 ton/h Palm Oil Mill Project Built in Thailand
ABC Machinery, the top-rated palm oil mill plant supplier in China, has gained rich experience to provide the BEST palm oil processing machines in Nigeria. We boasts professional design and development team to customize the advanced palm oil processing machines and techniques for our Nigeria customers. Believe it or not, there, you will enjoy the first-class service and premium quality machines. You are welcomed to contact us for more detailed information about the palm oil processing mill and palm oil processing machines. We will offer you the specific list of palm oil processing machines and quote the latest cost of palm oil processing mill.
Dear, I hope this message finds you well. We are now prepared to proceed with the Crude Palm Oil Mill and Palm Kernel Oil Production. Timing is very critical for us as we are looking to complete the project in 2016 - initial scope of Mill production 2 tonnes Fresh Fruit Bunches Per hour and Palm Kernel Oil equivalent (from extraction of 2 FFB). We are now seeking for details on total cost including payment structure and timeline of project.
1) Cost Breakdown- What is included in the cost breakdown estimate -machinery, labor, and equipment?
2) Is the building structure cost part of the estimate?
3) Does the cost estimate also include the Palm Kernel Oil Production equipment? If not, what is the cost of the equipment?
4) Please confirm your typical contract structure- for example- down payment amount or percentage to begin through completion of the project
5) How long will it take to complete the project?
Dear, Thanks for your reminder. I saw your email and questions and we are re-evaluating the cost for the whole project. But the previous price is hard to cover the palm fruit oil extraction line.The total cost we offer is the cheapest in the market, but it doesn't include installation cost, air ticket, VISA fee, shipping cost to Nigeria and accommodation fee.
50ton palm fruit after stripping and dehulling, you will get about 10ton palm kernel, so you can consider set up a 10ton/day palm kernel oil press line, 10ton/day palm kernel oil pressing line FOB China price I have sent to your email, please check it.
As for your questions, please see below.
1) The new price for 50ton/day palm fruit oil pressing line is only for all equipment but not including installation cost, our engineers air ticket, make VISA, charges of board and lodging on site.
2) It is only for all equipment but not including building construction, you have to set up your workshop by yourself.
3) No, palm fruit oil pressing line is not including palm kernel oil pressing line, they are two separate lines, 10ton/day palm kernel oil pressing line FOB China price has been sent to your email.
4) Our payment term is 30% T/T deposit and 70% balance before delivery.
5) Our production time is about 60-90days and shipment time is about 60days, installation time is about 60days.
I would like to know if your funds is ready and when can you start workshop construction work?
Why palm red oil and palm oil?
Industrially produced palm oil is red and extracted from the palm fruit, while palm kernel oil is white and extracted from the kernel inside. The difference between the raw material for oil extraction: The palm oil is made by pressing the palm fruit from the oil palm tree, and the pulp produces palm oil. The kernel of the palm fruit on the oil palm tree produces palm kernel oil.
What are the uses of palm oil?
In the food industry, palm oil is generally processed into shortening, margarine, hydrogenated palm oil, frying fats and specialty fats. Industrial uses of palm oil Industrial use of refined palm oil requires a melting point of not less than 44°C.

The industrial use of palm oil is mainly divided into two categories:

one is available directly from palm oil, such as soaps, epoxidized palm oil and its polyols, polyurethane and polyacrylate products;

The other is oleochemical products, such as fatty acids, esters, fatty alcohols, nitrogenous compounds and glycerol, on the basis of which a variety of derivative products can be produced in different chemical ways.

The main raw materials of oleochemicals are oils and fats rich in C12-C14 and C16-C18 carbon chains, of which palm kernel oil, palm stearin and palmitic acid are the main raw materials.