ABC Machinery is a leading manufacturer & supplier of high quality palm oil and palm kernel oil processing machine. We are committed to update the oil processing technology to help customers to get the most advanced palm oil processing equipment at favorable price. Our core equipment includes palm oil milling machine, palm oil refining equipment, palm kernel oil extraction machine, palm kernel oil refinery plant, and palm oil fractionation equipment, etc..In addition, we also provide one-stop service to help customers setup palm oil processing turnkey project, including factory design, machine manufacturing, installation, commissioning and training services!


Palm Oil Processing Equipment Manufacturer
Threshing Palm Oil
The palm fruit received in the palm oil mill plant are palm fruit bunches which are embedded with many small individual fruits. In the threhsing process, the individual palm fruits will be detached from the bunches by use of FFBs thresher/stripper. Rotating Drum and Fixed Drum are the two main threshing machine applied in palm oil milling process. The bunch waste from the palm oil milling process is incinerated and the ash, a rich source of potassium, is returned to the plantation as fertilizer. (Read more: Thresher Drum Palm Oil Mill >>)

| | | |
| --- | --- | --- |
| Palm Fruit Bunches in Stripping Machine | Empty Bunch after Threshing/Stripping | Palm Fruits |

| | | |
| --- | --- | --- |
| Thresher Palm Oil Mill | Palm Oil MIll Threshing Section | Palm Fruit Threshing Machine / Thresher |
Main Machinery in Palm Fruit Threshing Process: Thresher (threshing tripper) and Inclined Fruit Bar Conveyor.

We meet the demands of virtually every application in the edible palm oil milling industries. With premium quality palm oil manufacturing machinery and professional processing systems & technologies in the field of palm oil extraction and refineries, our expertise with mature experiences can help you design and build customized palm oil mill. If you want to know about palm oil extraction, or the price of palm oil processing machine, please feel free to contact us to get more details!

Genergy Process of Palm Oil Milling Project/Factory
Bunch Reception
Bunch Sterilization
Bunch Threshing (discharge empty bunches)
Fruit Digestion
Pulp Pressing (residual: mixture of nut and fiber)
Palm Oil Clarification
Palm Oil Drying
Bulk Oil Storage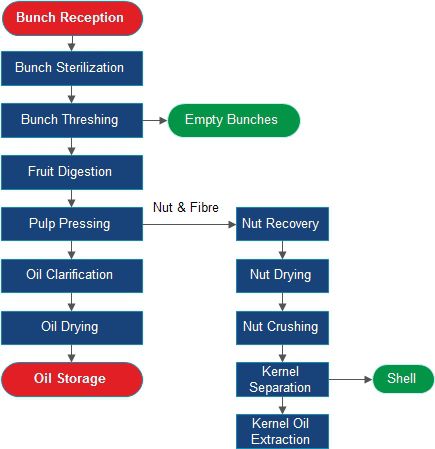 Ideal Composition of Palm Fruit Bunch
| | |
| --- | --- |
| Bunch weight | 23-27 kg |
| Fruit/bunch | 60-65 % |
| Oil/bunch | 21-23 % |
| Kernel/bunch | 5-7 % |
| Mesocarp/bunch | 44-46 % |
| Mesocarp/fruit | 71-76 % |
| Kernel/fruit | 21-22 |
| Shell/fruit | 10-11 |
Palm Fruit Threshing Process and Machine
Setup up Small Scale Palm Oil Mill Plant
Small scale palm oil mill plant earns more and more popularity in palm oil industry, especially in Africa since it requires less investment. Small scale palm oil processing equipment is relatively small, taking up less spaces. Also, it is easy to operate and do not requires complicate process. (Read more: Small Scale Oil Mill Plant Project >>)
For small scale palm oil mill plant, the threshing process may be after or before the oil palm sterilization based on the specific capacity. For technical questions, please contact us directly and our engineers will get back to you as soon as possible!
Construct a Fully Automatic Palm Oil Processing Plant Project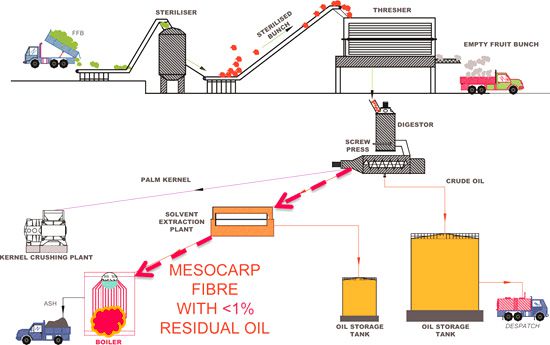 Automatic Palm Oil Manufacturing Plant Design - Large Scale
For large scale or industrial scale palm oil production, ABC Machinery provides designing and constructing service and guarantee all machines for palm oil to international standards. The capacity ranges from 3 tonnes to 60 tonnes of FFBs per hour. Our palm oil mill projects are designed with mechanical handling systems including pipelines, pumps, screw conveyors and bucket. The mill is specially designed for palm oil milling production, featuring of high automatic and continuously operation. (Read more: Cost of Setting up a Palm Oil Mill in Nigeria >>)
In the case of boilers, fuelled by fiber and shell, they produce superheated steam, used to create power through turbine generators. However, the lower weight steam coming from the turbine is utilized for warming purposes all through the palm oil milling plant. Most processing operations are automatically controlled, routine sampling and analysis by process control labs to guarantee effective and smooth running. The extraction rates of our palm oil mill project can reach 23~24%.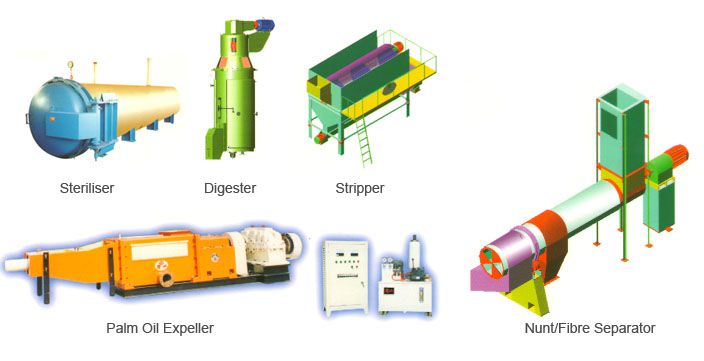 Main Palm Oil Processing Machines
Many palm oil machines are also capable of processing other crops with minor modifications. Case in point, the vertical digester can be modified to be used as a mixer, the screw oil press can be utilized for de-watering and extrusion, the sterilizers are equipped for cooking vegetables, oats and grains and additionally roots and tubers.
Good day, I want to make a request for screw press, thresher and converoys.
Please kindly reply me on my email. Thank you.
Hello, dear. The Mini Palm Oil Mill Plant (capacity:1~10 tons per day) we designed has thresher, screw oil press, oil filter and conveyors. It is exactly what you need. Please tell us your preferred capacity, so we can offer the detailed quotation for your reference.
I need a cost review of the different kinds of palm oil milling plants you have. I mean complete milling plants from threshing to packaging.
Hello, sir/madam,
We have strong capacity to provide complete palm oil processing plant at your request. But the detailed price list should take a lot of factors into consideration, especially the capacity you expected. So, please inform us more details, then we can offer the customized proposal and cost.