Supply turnkey palm oil pressing plant and all kinds of quality palm oil machines including palm oil press, palm oil expeller and filter with competitive price. Send an inquiry now and tell us your budget, situation and other requirements. Then we can guide you starting palm oil pressing and refinery business step by step.

After bunch reception, bunch sterilizing, threshing and digesting, the palm fruits are pressed into a screw palm oil press. Mixture of oil and cake will be extracted by use of palm oil press machine. Besides, nuts and fibre or press cake will also be discharged as palm oil pressing residues.

Palm Oil Pressing Machine (Oil Extraction)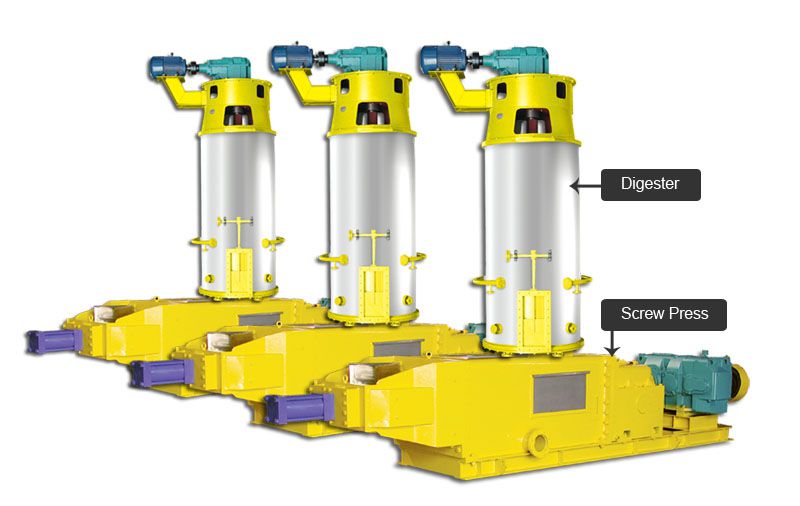 Screw pressing is the main method of palm oil extraction. In pressing stage, mechanical screw palm oil pressing machine is used to extract the oil out of digested palm pulp which is a mixture of oil, water, fibre and nuts.
Hydraulic presses and the older centrifuges have been deemed almost redundant today as palm oil processing plants these days use specifically designed screw-presses much like the ones used for other kinds of oil seeds. Palm oil screw press is made of a rod-shaped punctured enclosure and a narrowly fitting screw running through it. The digested palm fruit mashes are unceasingly carried through the enclosure and taken to an opening that is restricted by a cone which generates the pressure needed to extract the oil via the cage perforations in the enclosure.
Due to the commotion and massage action that is applied on the fruit pulp in the pressing cage, screw presses are known as the most effective machinery in breaking open the oil cells that remain unopened and hence extract more oil. Screw oil presses can be viewed as an extra digester. They are ideal for the extraction of palm oil and other kinds of vegetable oil.
The following is project photos of palm oil pressing station:
You are welcome to inquire about the details and cost of our palm oil pressing equipment(FFBs sterilizer, FFBs stripping machine, digester, palm oil expeller, palm filter) and automatic palm oil pressing line. We are always at your service!
Related Products