With the increase of population and the rapid development of edible oil industry, the production of palm oil is also increasing year by year. The oil yield of palm fruit is 35% ~ 38% which is much higher than that of palm fruit bunches (16% ~ 18%). Therefore, the yield of palm fruit can be obviously improved by threshing and crushing.

1-10 ton/h Small to Medium Scale Palm Oil Mill Design
If you are planning to set up a small to medium sized palm oil extraction plant, screw type palm oil pressing machine should be the best choice for your oil mill plant. View this article for detailed process feature of screw oil press / expeller for palm oil. Just feel free to send an inquiry if you are interested in get a customized palm oil business plan.
Screw oil pressing or expelling can be into hot pressing and cold pressing (read more about palm kernel oil pressing machine). Most palm oil production adopts hot pressing process. In hot pressing, the oil-bearing materials is cooked or heated before oil expelling. The cooking process has the following benefits:
Destroy enzymes, anti-nutrient factors and toxins.
Facilitate the separation of oil.
Adjust the moisture content.
Help form high pressure in the oil pressing chamber, improve oil output.
Palm Oil Pressing Process
Mechanical press is mainly used to force the crushing of oil cells by hydraulic oil press and screw oil press. Screw press is mainly applied to continuous palm oil extraction process, while hydraulic oil press is mostly used in batch or semi-continuous production line. The following table shows the characteristics of different
palm oil extraction machine
:
Oil Extraction Method
Characteristics
Screw Pressing
Advantage: Suitable for large scale production line.
Disadvantage: The oil residue is relatively high compared with hydraulic pressing process.
Hydraulic Pressing
Advantage: The oil yield can reach up to 70%~90%.
Disadvantage: Unable to achieve continuous production, only batch processing.
Aqueous Enzymatic Method
Clean and efficient (oil yield can be up to 90%).
The operation is too tedious and cannot achieve mass production.
Solvent Extraction
High oil yield.
Organic solvent and solvent recover equipment is added. High cost and pollution risk.
Supercritical Fluid Extraction
High quality of oil.
High equipment investment and operating costs.
The common used palm oil pressing process is: sterilizing, threshing, digesting, screw pressing, oil clarification, filtering, and drying. Cooking under 100℃ for 3 hours. After go through threshing and digesting process, the fruit pulp will be pressed in palm oil press to get oil water mixture. After 3 hours clarification and 0.5 hour drying process, qualified crude palm oil will be got. The following photos are about a 2 ton/h small palm oil extraction plant we built in Nigeria.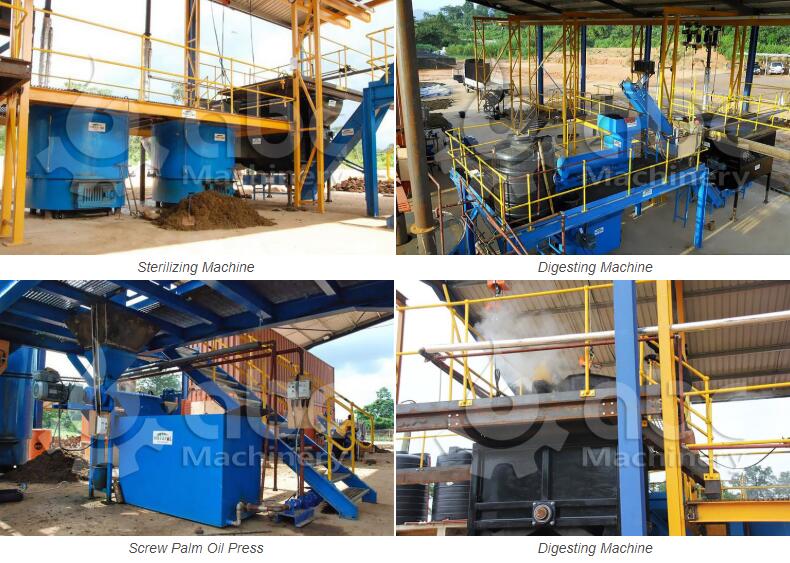 The purpose of sterilizing is to destroy the activity of the activity of lipase in pulp tissued. It is usually required to be done within 24 hours of harvest, and the fruits after sterilizing is easy to fall off from the fruit bunches and the fruit will also be soft and easy to digest. Preheat the sterilizer to a boil, and then put the palm fruit bunches into the sterilizer. The fruits will be cooked for 3 hours under 100℃. Due to the limited capacity of the sterilizer. About 30~ 36 bunches of fruit can be placed at a time.
Reasons for Low Palm Oil Yield
The oil yield of palm fruit is 35% ~ 38% and that of palm fruit bunches is 16% ~ 18%. There are some reasons if the oil yield of your
palm oil processing factory
is lower.
The oil palm variety selected is relatively low in oil content.
The oil palm fruit picked is not ripe enough.
The performance palm oil pressing machine selected is not stable.
Equipment for Palm Oil Refining Plant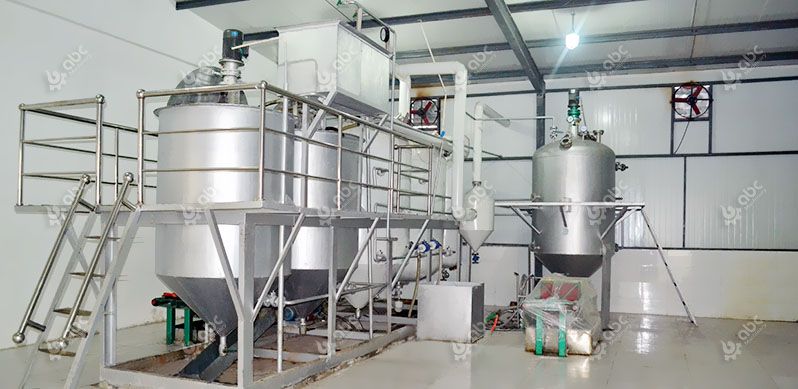 Low Cost Mini Palm Oil Refining Plant (1ton/h)
Oil refining is to remove impurities in the crude oil, so that it reaches the high standard of edible oil. For crude palm oil, phospholipids, protein, viscous substances, glycosyl ester, etc, are common peptized impurities. They not only have a significant impact on the stability of oil, but also results in the decline of oil quality.
How to Refine Palm Oil?
In general, crude palm oil refining can be divided into
physical refining and chemical refining
. The specific process includes water degumming, neutralization, decolorization and deodorization. The main difference between the two refining processes is that free fatty acids (FFAs) are removed in different ways.