We can offer turnkey palm oil refinery plant solutions from plant layout design, machinery manufacturing, onsite debugging and installing. The production capacity ranges from 1 ton/d up to 400 ton/day. Send ~us an inquiry if you are interested in start palm oil refining line or factory. We are always glad to give suggestions for your business!
Depending on the level of automation, palm oil refinery plant can be divided into the following three categories:
Batch Refinery Plant

: 1TPD,2TPD, 3TPD, 5TPD,10TPD,15TPD, 20TPD, 30TPD. (Suitable for mini and small palm oil refining factory)

Semi-continuous Refinery Plant

: 15TPD,20TPD.30TPD (Suitable for middle-sized palm oil processing plant)

Continuous Refinery Plant

: 30TPD ,50TPD,100TPD,200TPD,400TPD (Suitable for industrial scale palm oil mill plant)
Read more:
What is Batch Refinery, Semi-continuous Refinery and Continuous Refinery ?
Crude Palm Oil (CPO) is mainly further processed into edible oil for food purpose. To meet the international industry's standards for edible oil, the crude palm oil produced by oil mills should be refined in palm oil refinery plant. Palm oil refinery process mainly includes palm oil degumming, palm oil deacidification, palm oil bleaching and palm oil deodorization.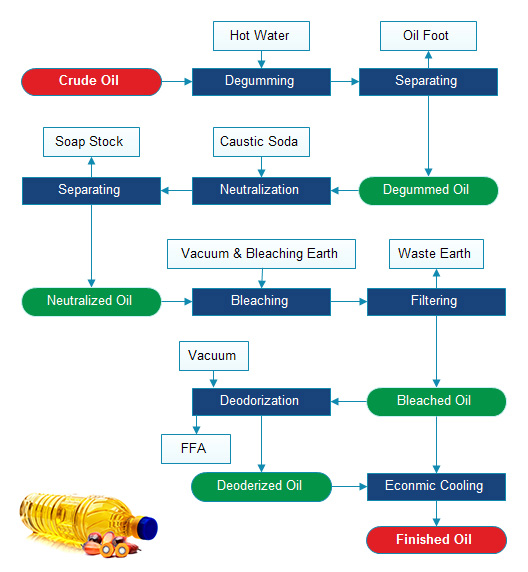 Crude Palm Oil Refining Process Flow Chart
The refining process removes water, odouriferous matter, phosphatides, free fatty acids and other impurities including dirt and traces of metals from palm oil mill. After processed in palm oil refinery plant, the final oil product is a kind of premium edible oil of consistent quality which not only satisfies customer requirements and industry's standards in respect of Iodine Value, FFA, flavor, color, melting point, peroxide value, impurities and moisture.
Basic Steps of Edible Oil Refining Process
Step 1: Remove the easily hydratable phospholipids by degumming with water.
Step 2: Convert the remaining on-hydralable phospholipids into hydratable phospholipids.
Step 3: Adding a slight excess of sodium hydroxide solution to neutralize the free fatty acids. Then, wash out the hydrated phospholipids and soaps;
Step 4: Bleaching with natural or acid-activated clay minerals to adsorb colouring components and to decompose hydroperoxides.
Step 5: Remove volatile components through steam distillation process under elevated temperature (180-220°C) and low pressure (2-6 mbar).
Successful Projects of Edible Oil Refinery Plant
The following is some onsite photos of our edible oil refining projects. Feel free to contact us if you are interested!
Physical Refinery Vs. Chemical Refinery
Crude palm oil can be processed by either physical refining (distillative neutralization, steam stripping) or chemical refining (alkaline refining) to produce RBDPO and NBDPO. RBDPO refers to refined, bleached and deodourised palm oil, while NBDPO refiers to neutralised, bleached and deodourised palm oil.
Read more about "Physical Refinery or Chemical Refinery? Which One is Best for Palm Oil Processing"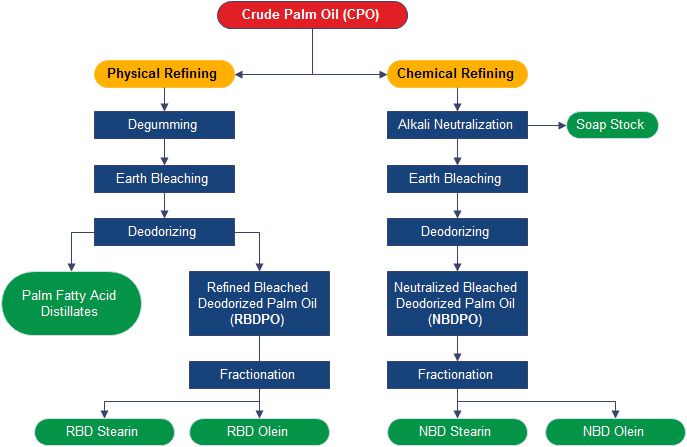 Curde Palm Oil Refining Process (Physical Vs Chemical)
---
Physical Refining of Palm Oil

Physical refining is also known as steam refining. In degumming process, it utilizes citric acid or food grade phosphoric acid to remove natural gums in the form of phosphatides. Then, in bleaching process, under vacuum, Fuller's Earth is used to remove colouring matters and adsorb any metal ions. The deacidification and deodorization process is under high temperature and low pressure. By used of live steam, the FFA is stripped of. The steam is then recovered together with the entrained oil is as palm fatty acid distillate. The off-flavors and odours can also be removed from the crude palm oil in the steam distillation process. Before polishing, the refined oil needs to be cooled to 55°C. (Related Posts: How to start a palm oil fractionation plant ? )
Physical palm oil refining process is the most common used type in palm oil processing industry. It is featured of low production cost, high efficiency, simple production process and low effluent load.
Chemical Refining of Palm Oil
In the chemical refining process, the FFA is removed by neutralisation with caustic soda (sodium hydroxide). This chemical reaction produces neutralised CPO and a soap stock. By used of a high-speed separator, the soap stock can be separated from the oil. Then, through earth bleaching, colour pigments and metal ions are removed from the neutralised oil. Then, in deodorization process, odoriferous matters such as ketones and aldehydes are removed by steam distillation under vacuum.
-
When refining crude oil with high carotene content, high initial FFA (up to 5%) and low phosphatides, chemical oil refinery plant is suggested, considering operating costs and refining losses.
I would like to visit your factory to arrange for a 20 ton daily capacity crude palm oil degumming and deodorizing plant.I live in the USA but this plant will be installed in Africa.So as soon as you can set up a date for me to visit your factory, I will be there.Thanks.
Thanks for your enquiry to our products. As for your request, could you kindly advise the following questions
1. which country does the project locate in Africa?
2. As for refinery, it includes degumming, deacidification, decoloring and deodorization and fractionation process. Pls double confirm you just need degumming and deodorization process...
3. How many people and when will you come, we'll arrange for you accordingly soon. What's your contact info, such cell, skype, whatsapp... so we could talk directly.
I can see from your website that you are installing a mill in Ivory Coast in Africa. Is it already working or functioning right now. If not do you have a functioning mill anywhere else in the world? Let me know
As a professional company in manufacturing and exprting oil and fats complete equipments for years. We've exported lots of turn-key projects abroad every year, as for Africa countries, such as Senegal, Egypt, burkina faso, Cote d'Ivoire, Ghana,Tanzania, Zambia, Nambia and Mauritius, and we'll build a project in Nigeria soon.

As for the project in Cote d'Ivoire, it's a 10TPD refinery project for coconut oil, now this customer had changed the raw material into palm oil. So we just provided another set of complete equipments of 10TPD fractionation line, i guess that this project will be finished early next year. Hope above info could give you some confidence to carry on this project in Cameroon.
Does your company source or manufacture centrifuges and decanters for the processing of waste palm oil. We are looking for 2 to 3 tonne per hour decanter for solids removal and a centrifuge for water removal. Please advise.
As for your request, could you kindly advise the following questions:
i) As for the palm sludge oil, what's the proportion of solid/sludge?
ii) And what's the proportion of palm oil and water?
iii) Why do you need extra centrifugal to remove the water, since the decanter could separate solid, water and oil already?
We are interested in the following; 1.Palmolien oil refinary 25TPD. 2.Bottles and plastice jerrycans making machine for fillwing with refined oil. 3.Filling,capping and labelling machines. The project is to be errected in Somaliland on turn key basis.please advise
Thank you for your attention to our products. Regarding to the palm oil refinery,the process is as follow: degumming, deacidifying, bleaching, deoodorization. fractionation. Please inform us which section you needs.or inform us the finished oil standard you want, then we can check the processing details for you.

Bottles and plastice jerrycans making machine for fillwing with refined oil. 3.Filling,capping and labelling machines. Regarding to the capacity 25TPD, we donot suggest to make the jerry cans by yourself but buy from the factorys. Regarding to the oil filling machines, please inform us how many hours you plan to work each day. How many tons you plan to package? only design for 25tpd or larger capacity on? Please kindly inform us full information of your company, we will make the special file of you.
Please send us a detailed information and quote for a complete oil refining line using Crude Palm Oil or Soyabean Oil as starting point. Start up 30tons/day
Tks for your enquiry to our products.
Do you have oil pressing plant or buy crude oil from outside directly, could you tell us the oil index of your crude oil, such as acid value, colour, peroxide value, etc.
How do i remove odour from palm jernel vegetable oil?....please can you be very precise in answereing the question so i can understand clearly.thank you.
"Deodorization" is the way to remove the bad odour, pls inform us your capacity and your current process flowchart. So we could go for further details, thus suggest and quote for you accordingly soon!