Offer 1~20TPD Palm Oil Processing Machine and Turnkey Project
Palm oil is the common ingredient in many foods like peanut butter, ice cream, and chocolate. Many palm oil production facilities plant a lot of palm oil trees to facilitate the development of the oil. It is absolutely a lucrative endeavor to Start Palm Oil Processing Business in Nigeria due to the huge demand locally and globally. ABC Machinery can offer customized Palm Oil Processing Business Plan that includes factory layout, process design, equipment selection, invest cost, production cost, etc, to help you make you from this profitable business.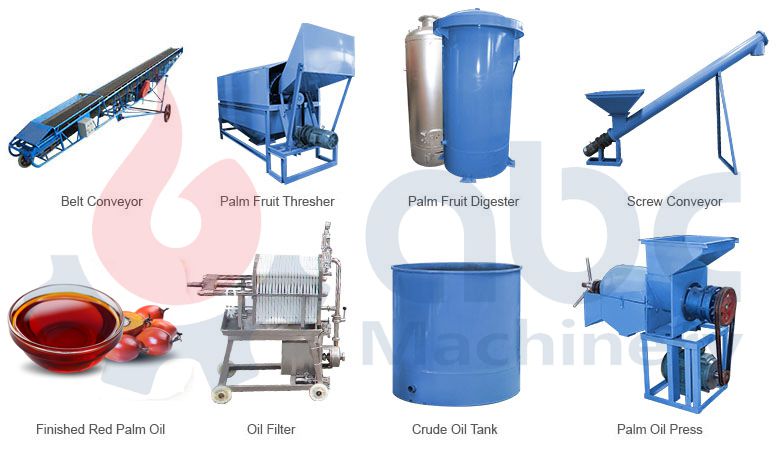 Small Palm Oil Processing Machines for Sales
How to Make Millions by Starting Palm Oil Processing Mill in Nigeria?
The primary reason for low yield of palm oil in Nigeria is that it still uses the traditional palm oil processing method. The traditional palm oil squeezing process can't extract the most oil from the palm fruits and there are a great deal of oil still remained in the pulp, which causes ineffective and great waster for Nigeria palm oil processing industry. Therefore, for Nigeria palm oil processing companies and manufacturers, the direct and cost effective way to increase palm oil production is to adopts advanced palm oil processing technology, equipment and efficiency.


Advanced Palm Oil Processing Plant - Large Scale
Modern Palm Oil Processing Plant that utilize the updated techniques and advanced designs will ensure little or no waster during the process, and greatly increase palm oil production. Advanced palm oil processing machine and technology can not only maximize the oil production efficiency, but also can minimize the investment and running cost. If you are planning to start palm oil production business in Nigeria, starting up a palm oil processing mill with advanced machinery would lead you a way to wealth. (Related Post: Palm Oil Mill Processing Cost >>)
Some investor may worry that it would be cost a lot to setup a complete palm oil processing plant. In order to help many small scale businessman or farmers, we develop and design a relatively Small Scale Palm Oil Mill Plant for Nigeria Market. Compared to large scale palm oil mill plant, Small Scale Palm Oil Processing Equipment requires less investment cost, has full sections of palm oil extraction.
Small Scale Palm Oil Extraction Section
Typically, Palm Oil Production Process includes fresh fruit bunches (FFBs) reception, sterilization, threshing and stripping of fruit, oil extraction, clarification and oil storage, and more. The general process of a small scale palm oil mill plant is that palm fruits are harvested from palm oil trees, the fruits are processed to extract the oil, and the oil is cleaned and purifies. Here is an in depth description of how palm oil is extracted and processed in a small scale palm oil processing mill.
Fresh Fruit Bunches Reception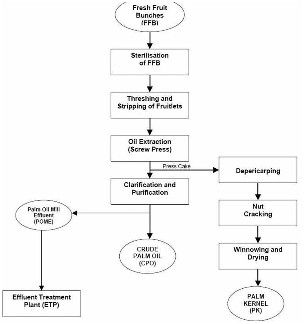 The first step that occurs is that the palm fruits are collected from the trees. Most of oil palm can be found in tropical parts of Asia and Africa. Most palm oil manufacturers have there own farms of palm oil trees that they use to get the fruits from.
Next is sterilization process in palm oil mill. The fruits go through a process where the fruits are roasted or boiled.
The next step must be done is thresher palm oil mill. Threshing is where each individual piece of fruit is separated from each other. Many palm oil processing plant prefer to use rotary drums to do this process. But, it also can be done by manual.
The next step that must be done to the fruits is that the oil must be separated from the skin and pulp of the fruit. This is done by putting the individual fruits in a rotating drum that breaks down and releases oil from the fruit.
Then, the fruit is placed in a Palm Oil Press Machine that uses large and heavy metal plates to mechanically squeeze all of the oil out of the fruits. Many batches of fruit can be placed into the presser at once because of the vast power that it has. (Related Equipment: Palm Oil Processing Machine for Sale in Nigeria >>)
Clarification & Purification
After the palm oil extraction, the leftover debris and impurities in the oil are filtered out by diluting the oil with water and proceeding to filter the mixture through a screen.
Small Scale Palm Oil Refining and Fractionation Section
After going through this process, the palm oil is ready to be sold as low quality palm oil for a cheap price. However, for a higher quality palm oil, much more processing is needed. Two more processes are needed, a refining process and a fractionation process.
Palm Oil Refining Process further gets rid of debris and impurities to ensure that the palm oil is quality and to perfection. This is done through both physical and chemical methods.
Palm Oil Fractionation Process is much different. During fractionation, the triglycerides contained inside the oil are separated by being heated. By doing this process, the palm oil gets more essential fatty acids and loses a lot of the saturated fat in it. This is what makes it a higher quality palm oil than just selling it after putting it through the presser. Higher quality palm oil sells for a lot higher price than low quality due to the extra amount of work that is required.
BEST Palm Oil Processing Equipmen Supplier - ABC Machinery
ABC machinery, the world's leading palm oil milling plant supplier, will be your best choice to fulfill your palm oil processing business in Nigeria. Every year, our engieers will go to Nigeria to help our customers solve their problems about palm oil production. (Related Post: Palm Oil Business in Nigeria 2018)


ABC Machinery in Nigeria for Palm Oil Processing Business
We strive to provide customers the most cost effective project plan with factory design, equipment selection and configuration, project cost details and more. We will try our best to meet your demands, you are welcomed to get in touch with us and get free service on estimating project cost.
Palm Oil Industry in Nigeria
From 1950s to the mid of 1960s, Nigeria was the world's largest crude palm oil producer and held a market share of up to 43%. However, the civil war took place in 1967 to 1970 greatly destroyed its palm oil plantation and production industry. The ideal oil palm plantation land is about 24 million hectares in Nigeria. But, the land that is put into use is only about 3.0 million hectares. Toady, Nigeria is still one of the largest palm oil producer. In 2008, its produced palm oil is approximately 850,000 MT. But, since 2009, the palm oil production in Nigeria kept stagnated. It is estimated that there are about 150,000 MT palm oil shortage in Nigeria every year. (Related Post: Cost of Setting up A Palm Oil Mill in Nigeria >>)

Today, the palm oi produced within Nigeria is insufficient to meet its domestic market. Thus, the insufficiency of palm oil production in Nigeria is a great opportunity to tap its potential by setting up a palm oil processing mill in the local place.