Brief introduction of palm oil in Nigeria
From 1950s to the mid of 1960s, Nigeria was the world's largest crude palm oil producer and held a market share of up to 43%. However, the civil war took place in 1967 to 1970 greatly destroyed its palm oil plantation and production industry. The ideal oil palm plantation land is about 24 million hectares in Nigeria. But, the land that is put into use is only about 3.0 million hectares. Toady, Nigeria is still one of the largest palm oil producer. In 2008, its produced palm oil is approximately 850,000 MT. But, since 2009, the palm oil production in Nigeria kept stagnated. It is estimated that there are about 150,000 MT palm oil shortage in Nigeria every year.
Today, the palm oi produced within Nigeria is insufficient to meet its domestic market. Thus, the insufficiency of palm oil production in Nigeria is a great opportunity to tap its potential by setting up a palm oil processing mill in the local place.


Why should have a palm oil processing mill in Nigeria?
The most primary reason for low yield of palm oil in Nigeria is that it still uses the traditional palm oil processing model. During the squeezing process of the traditional methods, a great deal of oil still remained in the pulp, which causes ineffective and waste production for palm oil.
However, the modern palm oil mill plant and palm oil processing mill that utilize the updated techniques and advanced designs will ensure little or no waster during the process, and greatly increase palm oil production. Through palm oil processing mill, the cost will be minimized while the production will be maximized. If you are in Nigeria, the largest palm oil producer, starting up a palm oil processing mill would lead you a way to wealth.
The flow chart of a palm oil processing mill
Typically, the palm oil pressing process includes fresh fruit bunches (FFBs) reception, sterilization, threshing and stripping of fruit, oil extraction, clarification and oil storage, and more.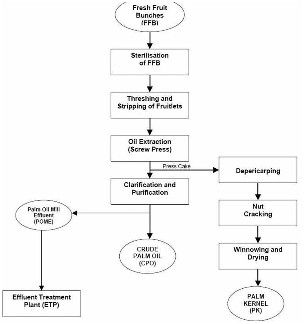 Fresh fruit bunches reception

Sterilization

Threshing

Stripping of fruit

Oil extration

Clarification and purification

Oil storage
Your best choice for palm oil processing mill
ABC machinery, the world's leading palm oil milling plant supplier, will be your best choice to fulfill your palm oil business plan in Nigeria. Besides, our company also provide palm oil mill design, palm oil processing machine, palm oil plant turnkey and more. If you are ambitious and dream for millions, please click here for more information and details about our palm oil processing mill and plant. We will try our best to meet your demands. Our official email: info@palmoilmillplant.com.please do not hesitate to contact us if you have any questions.