Palm Kernel Oil
As it knows to all, oil palm is an important oil-bearing crops that is mainly planted in subtropic and tropic areas, such as Indonesia, Malaysia and countries in Africa. Oil palm features high oil contents. More important, both the fruit and the kernel can produce oil. Generally, the fruit has about 46%-50% of oil while the kernel contains about 50%-55% oil.

Therefore, there are great demand of Palm Oil Extraction Machine and Palm Kernel Oil Extraction Machine in areas where oil palm is planted. Here, we will mainly introduce various models of mini small scale palm kernel oil extraction equipment to enhance the oil production efficiency.
Mini Small Scale Kernel Oil Extraction Machine
Palm kernels need to be crushed before its oil can be extracted for human consumption. The palm kernel oil extraction machine, also known as a palm kernel oil expeller or palm kernel crusher machine, was invented to increase the speed and ease of crushing the kernels as part of the pre-pressing stages for extracting palm oil. All of our palm kernel oil processing machines, the core equipment of palm kernel crushing plant, meet international technical standards and our own research institution is committed to bringing you the best new technology to suit your needs.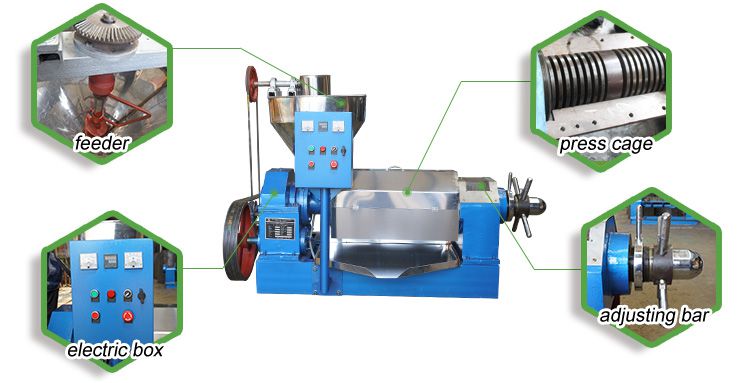 Palm Kernel Oil Extraction Machine Structure
For different production capacity, we provide different types of palm kernel oil extracting machines. Above is the structure of our YZS series small scale screw extraction machines that is specially designed to extract oil from palm kernel. It is mainly composed of feeder, gearbox, pressing cage, screw shaft and machine stand etc. It features many outstanding features. For convenient use, it can be equipped with a motor, a diesel engine, or electrical control cabinet as you like.


Mini Palm Kernel Oil Extraction Machine
In addition to screw type oil extraction machine, we also provide mini integrated palm kernel oil extraction machine to save oil making efforts. The most attraction of this type is it has vacuum filter that is used to filter the extracted oil, so there is no need to buy a special oil filter machine. It combine oil extraction and oil filtration into one machine. It's also suitable for various vegetable oil seeds. (Related Post: Palm Kernel Oil Production Business Plan>>)


Small Automatic Palm Kernel Oil Extraction Machine
Please note: Our YZS series palm kernel oil extraction machine has successfully passed CE and ISO 9001: 2000 certification for environmental protection and quality management systems.
Small Palm Kernel Oil Extracting Machine Features
Easy Operation & Less Maintenance
It is easy to use and store, which makes our palm kernel oil extraction machine the best choice for many small scale palm oil mill plant or small business venture.
Cheap Price and High Quality
All our palm kernel oil extraction machine are at factory price and we assure its quality and efficiency.
Multi-functional Performance
It can be used to process other oil seeds and kernel, such as peanut, almond, sunflower seeds, cotton seeds, mustard seeds and more.
Small Size & Scientific Design
The structure of our palm kernel oil extraction machine is designed scientifically to maximize the oil output.
ABC Machinery is an expert in the palm kennel oil machine manufacturing industry, supplying machines in more than 60 countries till date. We specialise in supplying highly efficient, durable and flexible palm kernel crusher machines and palm kernel oil processing machines to our customers. Depending on the scale of your plant and project, we supply both small and large scale palm kernel oil extraction machines. In the past a few years, ABC Machinery has developed advanced and efficient oil processing solutions that make palm oil making easier with less investments. As the leading brand in oil making sector, ABC Machinery understands that quality and efficient machinery help investor embrace more opportunities. Now, the company mainly supplies oil making machinery across the globe with palm oil mill plant, palm kernel oil extraction palnt and palm oil refinery plant.
How the Palm Kernel Oil Extraction Machine Works
Palm kernels move from the hopper into the extraction chamber to be crushed. A rotating screw powered by the motor forces the kernels through the chamber and breaks them down into smaller pieces.
The friction from the rotating press screw adds to the high temperature in the chamber. The design of the screw with a larger diameter at one end and a smaller diameter at the other facilitates the movement of the crushed kernels forwards and outwards so that the kernels are compressed as they pass through the chamber.
This crushing process extracts most of the oil from the kernels, separating the oil from the dry, de-oiled cakes (containing less than 7.4% of the remaining oil).
Kindly provide quotation for mini palm kernel extraction plant, with quality and long lasting equipment at minimal cost.
Dear,thank you very much for your inquiry. I would like to know what is the input capacity for this palm kernel oil pressing line? Do you still need sheller and separator machine for your palm kernel? Do you want set up this oil plant in Lagos ,Nigeria?