There are many palm oil factories and palm kernel oil factories in Malaysia, Indonesia, Nigeria and many other places where palm trees are planted in abundance. Referring to the current situation of palm kernel oil extraction, small oil extraction plant by using screw oil press is in the majority. However the process of the oil plant is different which is based on many factors including production output, cost budget, degree of automation, factory conditions, client requirements, etc. (Read more about small scale oil mill plant for palm oil)
Star Your Own Palm Kernel Oil Production Business


Screw Palm Kernel Oil Extraction Machine for Sale
For palm fruits, the proportion of pulp, kernel shell and kernel changes according to variety, place of origin, fertilization, fruit age, etc, which is roughly 35% ~ 80% of pulp, 8% ~ 20% of kernel shell and 6%~15% of kernel. The oil content in palm pulp is 46% ~ 50% and in kernel is 50% ~ 60%.
Twice Pressing Process of Palm Kernel Oil
Twice pressing (secondary pressing) is one of the common process for palm kernel oil extraction, especially for mini and small scale oil plant. This process can ensure that the residual oil in palm kernel cake is between 5% and 7%.

Palm Kernel Oil Pressing Process (twice-pressing)
Due to the limited by small capacity of screw oil press, this process is not suitable for large production line. The capacity of screw oil press is generally 15 t/d. It means that 150 sets of oil press machine is needed for setting up a 1000 t/d palm kernel oil extraction factory. So, if you are planning to start an industrial scale palm kernel oil mill, prepressing and solvent extraction process is suggested, don't hesitate to get in touch with us for detailed and customized business plan!

Palm Kernel Oil Refining & Fractionation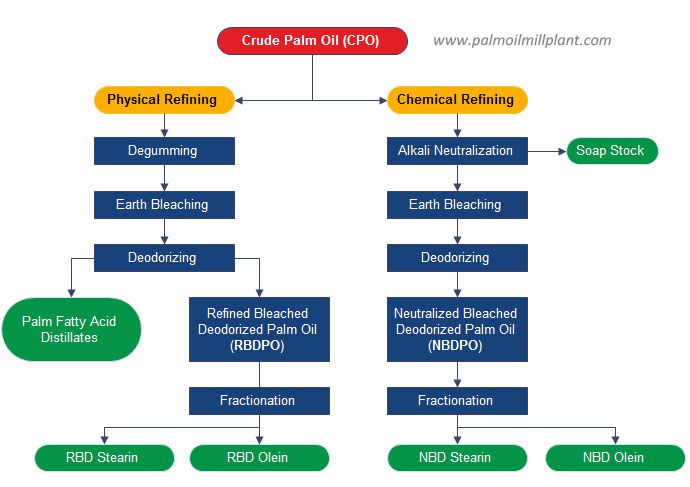 Physical Refining is the BEST for Palm Kernle Oil Processing
Read more about "physical refining of palm oil" and "cost of oil refinery plant"
Through palm kernel oil fractionation machine and plant, palm kernel oil can be divided into two products: stearin and olein. The following table shows the physical properties of palm kernel oil, stearin and olein:
| Characteristics | Palm Kernel Oil | Palm Kernel Stearin | Palm Kernel Olein |
| --- | --- | --- | --- |
| Iodine Value | 16.9~19.6 | 5.8~8.1 | 20.6~25.3 |
| Slip Melting Point ℃ | 25.9~28.0 | 31.8~33.1 | 23.0~25.4 |
The purpose of fractionation is to obtain precious stearin, which costs about 2 to 2.5 times as much as palm kernel oil. Palm kernel stearin is the ideal substitute for cocoa butter, used to produce chocolate products. Palm kernel olein (palmitin) is a kind of by-product, and the price is about 5% lower than palm kernel oil. Read more about the palm kernel oil fractionation machine and process!
We have been gained a wealth of experience in setting up palm oil mill plant and palm kernel oil extraction plant for at least 20 years. Meanwhile, we have highly professional teams for the design and manufacturing of palm oil processing machines. With the help of our company, you can easily start your palm kernel oil production business and further make a profit through efficient palm kernel oil extraction machine. It's sure you will have a perfect palm kernel oil production business plan at our company. Please feel free to contact us!
How to Plan the Palm Kernel Oil Production Business with Ease?
Worldwide Oilseed Production in 2017~2018
Oilseeds
Soybeans
Rapeseed
Sunflower Seeds
Peanuts
Cottonseed
Palm Kernel
Copra
Production
(in million metric tons)
336.7
74.71
47.31
45.45
45.04
18.45
5.73
Get a good business proposal plan
A perfect business plan should include practical market analysis, financial summaries and other necessary details that can make the palm kernel oil production business a success. The business plan will help to focus on and achieve set business objectives.
Outsourcing for funds, one of the most important parts of palm kernel oil production business plan, plays a key role toward the final success. Generally, the palm kernel oil production business will require at least about $3,000. Depending on the size and capacity, the cost of the palm kernel oil production will vary differently (read more about the palm oil processing plant cost). And most of money is spent on the starting up. The following table shows the production costs of several major oil crops, which vary greatly due to different production conditions. As can be seen from the table, the production cost of palm oil is much lower than that of soybean oil and rapeseed oil.
Production Costs Comparison of Several Oil Crops
Oils
The Country of Production
Cost for processing per ton of oil ($)
Palm Kernel Oil
Indonesia
185
Palm Kernel Oil
Malyasia
240
Soybean Oil
the United State
400
Rapeseed Oil
Canada
648
Rapeseed Oil
European Community
900
Getting a good business site for the palm kernel oil production business is one of the important indicators about the success of the business plan. When decided to start a palm kernel oil extraction business, there are two key factors must be taken into consideration, one is the availability of the raw material - oil palm, the other is target market - where you can sell the palm kernel oil. The perfect site for a palm kernel oil production business will be next to the market as well as near to the source of raw materials.

Acquire palm kernel oil extraction machine
The process of palm kernel oil production involves a series of professional palm kernel oil extraction machine for cleaning, screw pressing, breaking, filtering and storage. Acquiring efficient and high-quality palm kernel oil extraction machine will save costs on the maintenance and repairs of these processing machines.
Hire competent and qualified staff
Hiring higher competent and highly qualified individuals for the palm kernel oil processing will be also important. Apart from the manager, the qualified work force in quality control, technical assistants, production personnel, security personnel and administrative staff should be strictly chosen.
Management and marketing of the business plan
Once all the requisite factors have been put into place, the palm kernel oil production process is ready to operate. but, please note that when the plan is carried on the start-up stage, it is essential to adopt effective marketing strategies to attract customers.
In conclusion, the time from preparation to operation will last about 3 to 4 months. However, it will take longer or shorter, which is depending on the availability of capital, the delivery and installation of the palm kernel oil extraction machines and other possible factors.
Challenges for Complete Palm Kernel Oil Extraction Plant

Coconut oil and palm kernel oil are the main sources of lauric acid today. Because of their close physical and chemical properties, these two oils can basically replace each other. Therefore, palm kernel oil and coconut oil belong to the same application area. The difference is that the production of coconut oil production is slow and volatile for a variety of reasons. In contrast, palm kernel oil, as a byproduct of palm oil, has a steady increase in output and a guaranteed resource supply. The followings are two challenges for setting up a complete palm kernel oil extraction plant:
Complete palm kernel oil extraction plant is capital oriented business, so both the design of palm kernel oil plant and the extraction machine of palm oil will take up a large part of the business investment.
Full scale palm kernel oil extraction factory requires various professional forces for different processing or production stages.
Palm kernel oil is widely used for cooking purposes and industry production. For instance, it is often used as a core ingredient in the manufacturer of soaps, margarine and non-dairy creamers. Therefore, there are great demands for palm kernel oil for industries usage and cooking purpose. If you are fortunately living in the country where is the major place of oil palm plantation and major processor of palm oil production, such as Malaysia, Indonesia, Nigeria or other countries, it is a great idea to venture a palm kernel oil production business. (You may be also interested in Palm Oil Processing Business Plan)
Would you pls send me quatation for big type palm kernel oil production equipment. I am in Indonesia.
Hi, dear. Tks for your enquiry! We are the leading supplier of palm kernel oil production machine and have various types for different production capacity. So, pls kindly inform us what's your desired capacity per day, so that we could suggeset and design for you accordingly.
I need a small scale PKO processing plant. for about 2 to 3 tones per day. precisely direct screw pressing design, of a multi-purpose unit pressing machine and a filter unit. please I need the cost for purchase and shipment.
Hello, sir/madam,
Our small-scale palm kernel oil processing plant is equipped with screw oil press machine. If you prefer multi-purpose oil press machine with oil filter machine. We can also provide it. The final price at the equipment and shipment will be offered as soon as you confirm the equipment and capacity.