ABC Machinery is capable of A2Z engineering services of palm oil processing unit (plant) from requirement consultancy, solution design, equipments manufacturing, onsite installation, stuff training, repair and maintenance and business extension ideas. Based on information and data from projects we have done, ABC Machinery deeply understands different clients in different markets from different regions. Because of this, ABC Machinery has build win-win solution with our clients over Africa, South America, South-east Asia and more.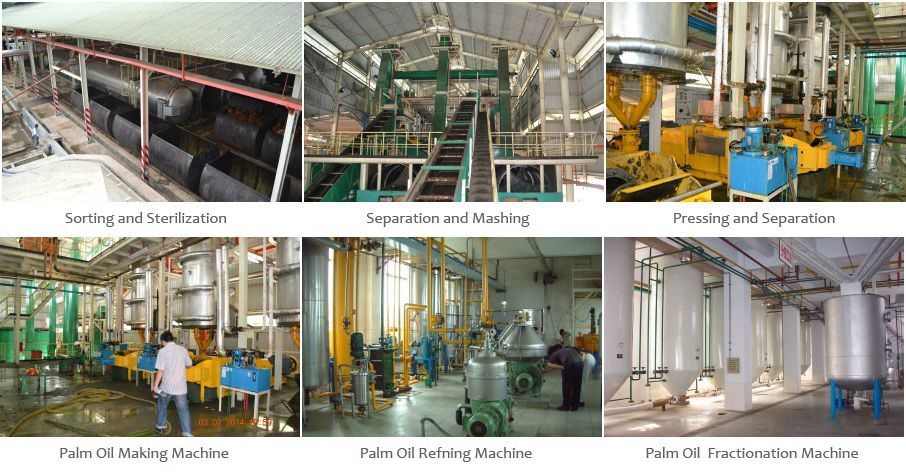 Feel free to contact us for details about how to start your palm oil processing factory and what's the best plan step by step depending on your specific situation. We are always here to serve you! (Email: info@palmoilmillplant.com)
How to Build a Plam Oil Processing Unit
Research and development work in many disciplines and the establishment of plantations resulted in the evolution of a sequence of processing steps designed to extract a high yield of a product of acceptable quality for the international edible oil trade. The oil extraction process of most palm oil processing unit, in summary, involves the reception of fresh fruit bunches from the plantations, sterilizing and threshing of the bunches to free the palm fruit, mashing the fruit and pressing out the crude palm oil. The crude oil is further treated to purify and dry for storage and export (palm oil refining equipment).
Summary of palm oil processing unit operations
| | | |
| --- | --- | --- |
| | Unit operation | Purpose |
| 1. | Fruit fermentation | To loosen fruit base from spikelets and to allow ripening processes to abate |
| 2. | Bunch chopping | To facilitate manual removal of fruit |
| 3. | Fruit sorting | To remove and sort fruit from spikelets |
| 4. | Fruit boiling | To sterilize and stop enzymatic spoilage, coagulate protein and expose microscopic oil cells |
| 5. | Fruit digestion | To rupture oil-bearing cells to allow oil flow during extraction while separating fibre from nuts |
| 6. | Mash pressing | To release fluid palm oil using applied pressure on ruptured cellular contents |
| 7. | Oil purification | To boil mixture of oil and water to remove water-soluble gums and resins in the oil, dry decanted oil by further heating |
| 8. | Fibre-nut separation | To separate de-oiled fibre from palm nuts. |
| 9. | Second Pressing | To recover residual oil for use as soap stock |
| 10. | Nut drying | To sun dry nuts for later cracking |
The process of palm oil manufacturing might be different in different cases. It depends on your capacity and budget requirment of the production line, situation of palm fruits and factory site condition and quality requirments of the final red palm oil products. Contact us for your customized business plan!
Process equipment design and selection criteria

For the crude palm oil refining industry for edible / cooking oil purpose, the most important quality criteria for crude oil are:
low content of free fatty acids (which are costly to remove during oil refining);
low content of products of oxidation (which generate off-flavours);
readily removed colour.
The most critical stages in the palm oil processing sequence for a processor seeking to satisfy these criteria are: bunch sterilization as soon as possible after harvest; and effective clarification and drying of the crude oil after extraction. (Read more: Cost of Palm Oil Processing Plant)
Palm oil processing machinery manufacturers tend to make machines to fit individual processing operations. However, recent developments have been toward the manufacture of integrated machines, combining several process operations such as digestion, pressing and fibre/nut separation into one assembly. It is found that these machines fit into two key process groupings: batch and semi-continuous processes.