Wanna find the best palm oil processing designer and supplier to start a palm oil mill plant? Haven't have clear ideal about the process of palm oil mill? Still looking for the list of palm oil processing equipment? Now, you can easily shoot all these problems by just emailing us your requirements.
Typical Process of Palm Oil Mill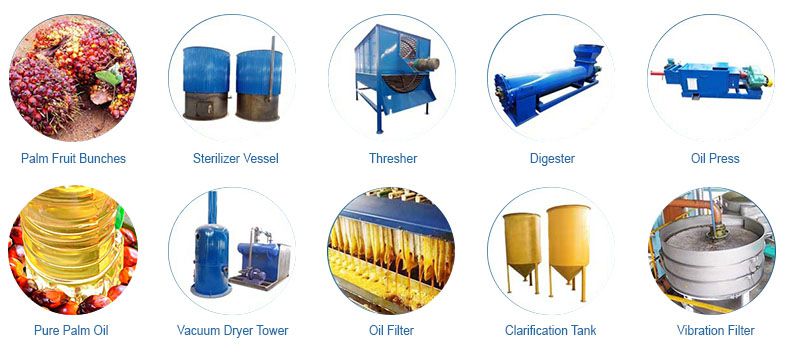 Main Process and Palm Oil Mill Machine
The demand for palm oil now still keeping increasing in the global market. Palm oil making business would be the most profitable one in the field of oil making. So, how to produce high quality palm oil?
There are several processes during palm oil processing, including palm fruit reception, palm fruit sterilizing, palm fruit threshing, palm fruit mashing and oil pressing, palm oil clarification and palm kernel recovery. For high quality palm oil, the best location of palm oil mill is within or nearby the palm oil plantation site, since the palm fresh fruit bunches should be processed no more than 24 hours. Main machinery involves in the process includes sterilizing equipment, digesting machine, thresher drum, strippers, screw presses, separator and more. (Also See: Plam Oil Mill Plant)
Threshing Drum for Palm Oil Mill
Normally, palm oil threshing is the third section during palm oil processing. After sterilizing, palm fruit is sent to thresher drum. Then, threshing drum separates palm fruit from palm bunches through strong vibration or centrifugal separation rotation. Separated palm fruit comes to next palm oil processing section - "Oil Pressing" while empty bunches will be collected and transported to designated place for further process. Threshing drum palm oil can greatly improve the efficiency of palm oil processing and minimizes labor investment. Besides, steel constructed threshing section is easy to operate, clean and maintain. (Also See: Palm Fruits Threshing System)


Thresher for Small Palm Oil Mill


Threshing Drum for Large Palm Oil Mill Plant
ABC Machinery is the leading supplier and manufacturer in field of palm oil processing. We has designed and built palm oil mill plant in many countries, including Ghana, Indonesia, Nigeria and more. We provide premium quality thresher drum as well as other palm oil processing equipment. Besides, we also have rich experience in palm oil turnkey projects. If you are interested in any of our palm oil mill machinery, please let us know!
Palm Fruits Threshing / Stripping Video
This is a video of palm fruit bunches threshing machine (stripper). Watch the video to see how the thresher works to strip palm fruits from their bunches.