Oil palm is the main oil crop in the tropical and subtropical region. Palm fruit is the most productive oil in the world. Palm pulp has 46 % ~ 50 % oil and palm kernel has 45 % ~ 50 % of oil. The oil extracted from palm fruit is called Palm Oil (PO), while, the oil obtained from palm kernel is called Palm Kernel Oil (PKO). They are two distinct oils and the extraction processes are also different. Below is the detailed information about how to extraction pko from palm kernel.
Palm Kernel Oil (PKO) Processing Machines

Palm Kernel Oil (PKO) Processing Flow Chart
The full set of Palm Kernel Oil (PKO) Processing Machines include Husker, Crusher, Cooker, Oil Press Expeller, Oil Filter.
Oil Capacity: 1 ~ 1000 Tons/Day
Oil Yield: >45%
Oil Residual in Cake: <6%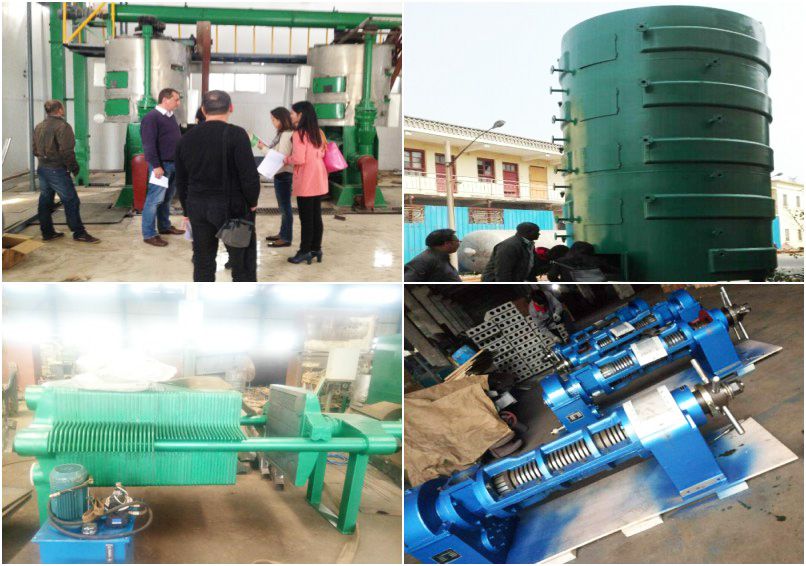 Kernel and Shell Separation
Palm kernel and palm shell are obtained through the separation between kernel and shell. Normally, the shell can be used as fuel in the boiler system. Husking can improve the oil yield of pko, at the same time, improve the quality of pko and oil cake, minimize damages and maximize the effective production capacity of pko processing machines.
Crushing
The bare palm kernel after husking process is big in size, which will cause much damages for pko processing machines if it is processed directly. Therefore, it is necessary to crush palm kernel into small piece so as to meet the requirements of palm kernel oil extraction. The main machine for palm kernel is rod-toothed crusher.
Cooking
The main purpose of cooking is to completely destroy the cell of palm kernel by the effect of water and moisture, make protein denaturation, gather oil, reduce the oil viscosity and surface tension, adjust elasticity and plasticity of material and passivate enzymes. The main machine for palm kernel cooking is steam cooker.
Extraction/Pressing
The oil is extracted from pretreated palm kernel through mechanical forces. Palm Kernel Oil Extraction Machine is divided into two types: special palm kernel oil press and conventional oil press.
Purify the impurities within the oil by clarifying and filtering the crude palm kernel oil
Filtration/Purification
he quality of palm kernel oil obtained through above processing steps is high and enough to reach the standard of cooking oil. If there are special requirements, the palm kernel oil needs to be refined at professional Palm Kernel Oil Refining Plant.
We industry leading manufacturer in palm kernel oil processing field. We provide full set of palm kernel oil (pko) processing machinery and equipment at factory prices. We also supply turnkey projects for pko extraction mill and refining plant. If there are any needs, please contact us for more details and latest price!