If your are planning to setting up a palm oil production plant in Indonesia or Malaysia you are in the right place! ABC Machinery is a senior palm oil prodcution plant manufacturer in Asia. We are expert in palm oil processing line for both small, medium and large prodcution plant, with rich experience in palm oil plant desiging, equipment manufacturing, factory installation and oil mill commissioning.


We offer premium palm oil production machine and equipment at the most competitive prices. Contact us now if you are interested to know more about our products or would like to get the detailed cost of starting a palm oil production business. We are always glad to serve you!
---
Indonesia and Malaysia are the two main market of palm oil prduction. However palm oil is starting to be exported all over the word in recent years and the palm oil production also keep increasing, because of wide availability and low price.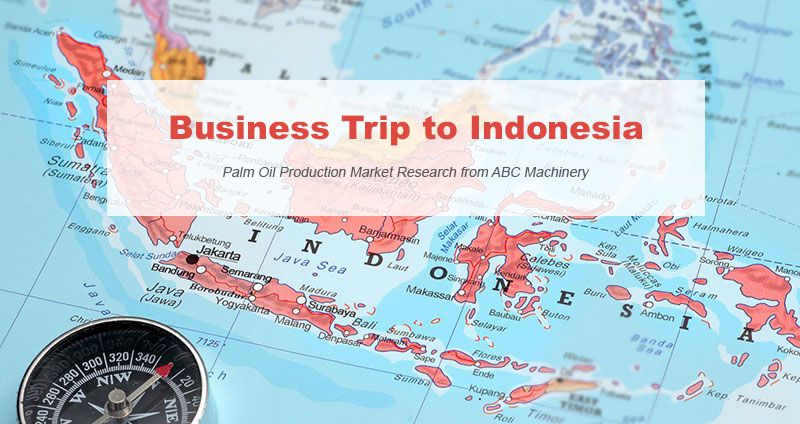 We went for a field trip to Indonesia from August 19 to September 2, 2018, to gain close insight into the local palm oil production. This trip gained us promising clients, who showed great interests in our business proposal and some paid the deposit on the spot.

Click here: Business Visit to Indonesia to view the detailed Trip Report of Palm Oil Production in Indonesia.

Set up a Palm Oil Mill in Indonesia
Sustainable palm oil production must also take into consideration the rights and needs of workers and other human beings impacted by the presence of production plants. New trees must continually be planted so as to reduce the effects of deforestation and to provide a sustainable business. And most importantly, everyone who is involved with the oil production must always been on the lookout for ways to improve harvesting and methods of producing the oil.
The following are the general processes of plam oil mill.
The area that the oil trees are grown in has some effect, but the biggest environmental impact has to do with who is growing the crop. Small farmers who grow multiple crops do less damage to the ecosystem than large monocrop plantations that only grow one. Large amounts of African oil is produced by small farmers, and is much less environmentally damaging. (Read more: small scale palm oil refinery plant)
Indonesia Palm Oil Production
Referring to palm oil production in Indonesia, more than half of the global palm tree is planted in Indonesia, and much of this is grown on clear-cut land. However, there have been advances in recent times-- just within this last year, the production of sustainable palm oil has been doubled.
| Country | Production (1000 MT) - Year of Estimate: 2018 |
| --- | --- |
| Indonesia | 40,500 |
| Malaysia | 21,000 |
| Thailand | 2,900 |
| Colombia | 1,530 |
| Nigeria | 970 |
Globle Palm Oil Production Market
Some conservation experts raise concerns that there is no such thing as 'sustainable' palm oil, but these voices are in the minority. Given that this oil is a major crop in the world and likely to remain so, most choose to focus on ways to limit the impact of the crop on the local ecosystems and the global atmosphere. And the pressure they are leveling seems to be working-- several large food companies such as Nestle and General Mills have agreed to purchase only sustainable palm oil by 2015.
At times, it can seem like the list of items to purchase or avoid in order to be ecologically friendly is endless. But every time you check that mental list, you are doing your part in keeping the world a good place to live for future generations. Palm oil production can be done without destroying the land that it is grown on, and consumers purchasing these sustainable oils is the pressure needed to force corporations to produce them.
Maybe you are also interested in the key to success of palm oil extracting business is harvesting technique and handling of palm fruit.
---
If you feel
interested in palm oil business in Indonesia or want to know more about our palm oil extraction machine and palm oil processing company
,
please feel freee to contact us through the following form. We are always glad to serve you!