Palm Oil Processing Machine Manufacturer - ABC Machinery

ABC Machinery was established in 2014 by combining the brands GEMCO and KMEC. Now, ABC Machinery is one of the largest vegetable oil processing machine manufacturer in China. We are expert in Palm Oil Processing and Palm Oil Refinery. Every year, we will installed many palm oil refinery project around the world, including small scale and large scale, if you are in needs of those project report, please let us know by contacting us directly.
Mini Palm Oil Refinery Plant for Sales
People who have an ambition in Palm Oil Production Business but with limited cost budget would want to know where can buy a mini type palm oil refinery machine to further process the crude palm oil and produce higher grade refined palm oil. Compared to large type palm oil refinery plant, Mini Palm Oil Refinery Plant boasts many favorable features that appeal to customers most in the global market, including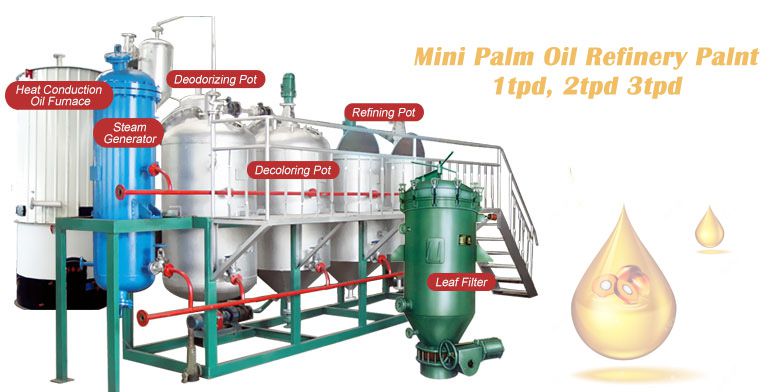 Mini Palm Oil Refinery Machine Structure
Save Cost: It is relatively cheap but has the full functions of palm oil refining process. In most case, the steam generator is applied in this mini palm oil refinery plant, so there is unnecessary to have steam boiler.
Save Space or Land: It is composed of a series of single equipment.
Save Investment: Special workshop is unnecessary. You can use this small vegetable oil refinery plant both indoor and outdoor.
Simple Operation: It is fairly easy to operate the whole set of mini palm oil refining machine when the electric, water and other indispensable materials are well prepared.
Extensive Use: It is also available and efficient to refine other crude edible oil, including soybean oil, sunflower oil, cottonseed oil, groundnut oil, etc
Mini Palm Oil Refinery Machine Process

Mini Palm Oil Refinery Machine Working Process
Pump crude oil into the workshop, pour it through the oil filter after measured by flowmeter, screen bigger metal substances in oil, put it inside a refining pot. Phosphate is added then. In the mean time, we have to get the phosphorous substances and other foreign matters out. Light lye is added, while we have to get the little fatty acids out. Then produce soapstock, and wash adsorption. It is washed for two or three times. Then get the soap remainder out, move to decolorization.
With over 720mmHg vacuum degree, heat oil that is degummed to 105-105 inside the decoloring pot. The structure of decoloring pot is full sealed, applying the automatic welding technology. For moisture removal, it is vacuum dried. For activated clay joining, it has to mixed with clay fully. Decolorization takes about 30 minutes. Using unique pump, we move oil into vibration filter. Put decoloring oil into bag filter for last filter after clay automatically discharged by filtering. Then the oil is temporarily stored in the clean oil tank.
Pump decoloring oil into deodorization pot, stripping and distillation take place for 3~ 4 hours through direct steam, evaporate the FFA and odor elements in the oil. Pump refined oil using shielding pumps with stay deodorization oil heat exchange. Add proper amount antioxidants to enhance the antioxidant capacity of the oil, and make the shelf life longer. After this, enter into polishing filtering, make sure the temperature is below 50℃, and temporarily store the refined oil in the tank.
What we put into maturing tank is cooling oil within 25℃ that is made from raw oil stored in a tank outdoor. We pump raw material into the workshop,and measure it. Then heat the oil, cool it by frozen water, and we will get oil within 25 ℃. Set crystallizing tank at a high level alarm, don't forget to interlock it. Fill the crystallizing tank with oil, initiate cooling crystallization procedure. The procedure is controlled by the computer through the preset frozen parameters. The computer control oil cooling speed by regulating the temperature of circulating water of freeze coil in the crystallization tank in order to succeed in the topmost crystallization effect.
The diaphragm filter press is much better than common box pressure filter, because there is a layer compound rubber plate elastic membrane diaphragm plate between the filter plate and filter cloth. That's why advanced membrane filtration system is used. The high pressure fluid can be injected into filter plate and diaphragm when the material input is complete during manipulation. The further dehydration of filter cake can be realized by the entire diaphragm compressing filter cake.
If you are interested in our Mini Palm Oil Refinery Plant, please do not hesitate to contact us to get more information and price list. We have professional team to solve all your problems, help you to select the most cost effective equipment.