Screw Small Palm Oil Presser


Screw Palm Oil Presser
Palm oil presser is the screw type oil press machine that is specially designed to process palm fruit. It is only used for palm oil extraction. The palm oil presser is widely used in small palm oil mill plant. It is small in size and efficient in performances. The reasonable structure design maximizes the oil extraction rate and reduces the wear rate of the palm oil extraction machine itself. The daily production capacity of ABC Machinery palm oil presser ranges from 0.5tpd to 23tpd. Below is the detailed technical data.
| Model | Capacity (T/H) | Power (KW) | Outline Size (mm) | WEIGHT(kg) |
| --- | --- | --- | --- | --- |
| DZYZ-0.5 | 0.5 | 4 | 2200X1500X1600 | 260 |
| SZYZ-01 | 1 | 5.5 | 2280X910X600 | 1340 |
| DZYZ-02 | 2 | 7.5 | 2690X500X1100 | 1200 |
| SZYZ-03 | 3 | 7.5 | 2850X950X650 | 2800 |
| SZYZ-05 | 5~7 | 11 | 3940X1600X850 | 3400 |
| SZYZ-10 | 10~12 | 22 | 4650X1600X950 | 4100 |
| SZYZ-15 | 15~17 | 30 | 4760X1600X1100 | 4800 |
| SZYZ-20 | 20~23 | 37 | 4850X1800X1200 | 5600 |
Small Palm Oil Presser Features


Small Palm Oil Presser for Sales
In addition to the small capacity, what else makes the small palm oil presser the BEST choice for most of the small palm oil pressing plant? (Related Post: Palm Oil Processing Cost>>)
It can be equipped with diesel engine or electric motor, which providing great convenience for those who is inaccessible for electricity.
Small Size and Easy Operation
Small structure is easy to operate and maintenance. And it can be moved easily.
It is not only suitable for small scale palm oil mill plant, but also great choice for home use

Small Palm Oil Pressing Line with Screw Presser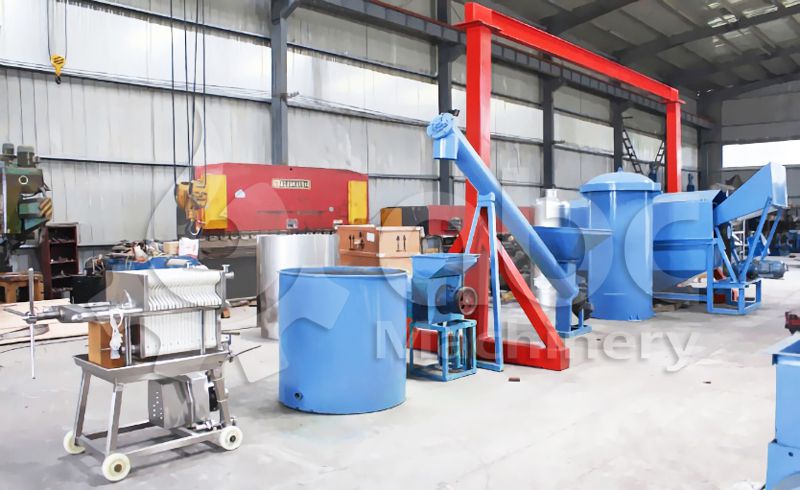 Mini Palm Oil Processing Plant
The small palm oil pressing line connects palm fruit thresher, digester, conveying machine, palm oil presser, oil tank and plate palm oil filter to produce red palm oil from palm fruit. The capacity of this small palm oil mill plant ranges from 1tpd to 20tpd. It has been brought by customers from Nigeria, Ghana, India, Cameroon, Tanzania, Thailand and more countries due to its highly efficiency and relatively low investment.
Main Process of Small Palm Oil Pressing Line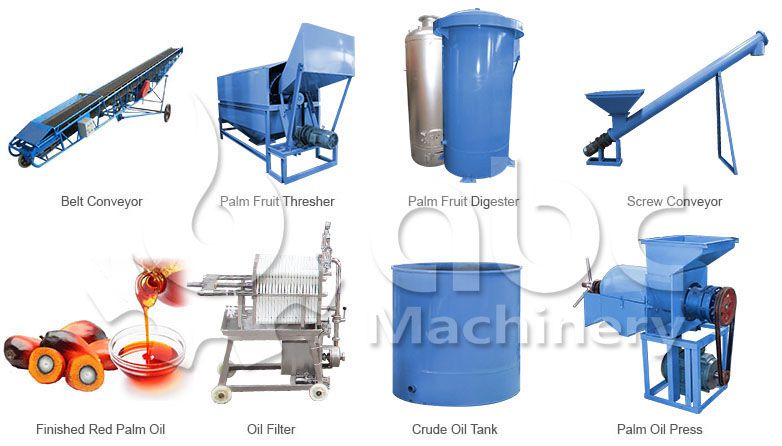 Small Scale Palm Oil Mill plant
Palm Fruit Threshing: This process is to separate palm fruits from the bunches.
Palm Fruits Digestion: This process is to crush palm fruits for easy oil pressing. (Related Equipment: Palm Oil Digester Machine >>)
Palm Oil Pressing: This process uses palm oil presser to squeeze oil from the palm fruit.
Palm Oil Clarification: This process uses the plate palm oil filter machine to get rid off the impurities contained in the crude palm oil and get the final red palm oil. (Read More about Palm Oil Refining Process >>)
Palm Oil Storage: The palm oil produced is stored in the oil storage tank for transportation or packing for selling.

We are professional palm oil processing equipment manufacturer and supplier. If you are interested in the small screw palm oil presser, please contact us directly for the latest price. We are always at your side!