As we all know, oil palm can produce two distinct oils - palm oil extracted from fresh fruit and palm kernel oil obtained from the nuts. Both palm oil and palm kernel oil are widely used in various industries, including food, chemical and others. Compare to palm oil, the production of palm kernel oil requires less complicated technology and more simple equipment. Therefore, even though you don't have too much money or you are far away from the oil palm plantation site, you can still start your own palm kernel oil production business. In order to ensure smooth palm kernel oil production, there are several things that you must make it clear, the typical palm kernel oil processing steps and the basic elements involving in palm kernel oil business plan.


Typical palm kernel oil production process
Palm kernel oil production involves a series of processing steps. First, get palm kernel clean. Palm kernel should be cleaned through certain cleaning equipment or just by manual. Since the impurities may contain stones, sands, iron impurities, metallic debris and more, it is better to use cleaning machine or sieving machine to remove all these impurities to better protect the Palm Kernel Oil Expeller Press. Second, crush palm kernel. Original palm kernel is better crushed into small size by professional crushing machines for easy processing. Third, separate kernel and nut shell. There are two ways of separation, wet and dry. Fourth, press palm kernel. Before pressing, the palm kernel should be cooked or heated for higher quality oil and cake. Then, the pre-treated raw material is feed into expeller press. Last, refine and get pure palm kernel oil. Pressed crude palm kernel oil should be refined through refinery machine to get pure and edible oil. (See More: Palm Kernel Oil Refinery Plan)


Palm Kernel Oil Production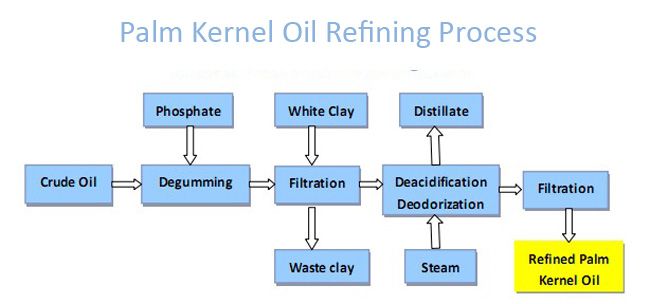 Palm Kernel Oil Refinery
Basic elements of an ideal palm kernel oil production business plan
The ultimate purpose of palm kernel oil production is to gain profits. So, you should first have a marketing evaluation. As for palm kernel oil, this step can be saved. Today's market has increasing demand for palm kernel oil and palm oil. As long as the final palm kernel oil is of great quality, there are no worries about its sales. Then, the start funds play a key role in the plan. It decide the scale and the quality of the palm kernel oil production. Prepare and find enough funds is beneficial. After that, search for a good place for production. Although producing palm kernel oil doesn't have strict standard about the raw material, a place near by the oil palm plantation and selling market would be the best. Besides, good transportation is another important factor when selecting the production site. After all of these are prepared, it comes to choose the suitable palm kernel oil production and refining equipment. Actually, a good and responsible supplier or manufacturer will save efforts and cost on machine purchase. Just a like us, ABC Machinery, we are the leading palm kernel processing supplier in China and highly focused in this field for over 20 years. Choose us, you will success in half. The last one is to gain necessary trains and knowledge about the management of production, operation of equipment, and develop sales and marketing strategies.


Different Palm Kernel Oil Production Machine for Different Capacities

Palm Kernel Oil Production Projects
In conclusion, a good and well evaluated business plan is going to increasing the quality of palm kernel oil and the production capacity. ABC Machinery is your reliable partner throughout the process.
In the earlier stage, we offer a plan with great suitability based on daily capacity, investment cost, production scale and more.
In the middle stage, we design and provide production equipment accordingly. More importantly, our quotation will be the most competitive.
In the last stage, we help to train the staff or operator and provide technical guidance. And, we are also responsible for the site installation and commission.
Trust us, we can offer you the perfect business plan & project plan, high quality processing equipment and machine for palm kernel oil production. For more detailed information and latest price, please contact us without hesitation!