What's Crude Palm Kernel Oil Refinery?
Crude palm kernel oil (CPKO) is the oil that directly got after Palm Kernel Oil Press Machine. It usually contains a great deal of impurities, including free fatty acid, pigments, colors, colloid, wax, moisture and other substance. These non-oil impurities has great influence on palm kernel oil's taste, smell, stability and storage.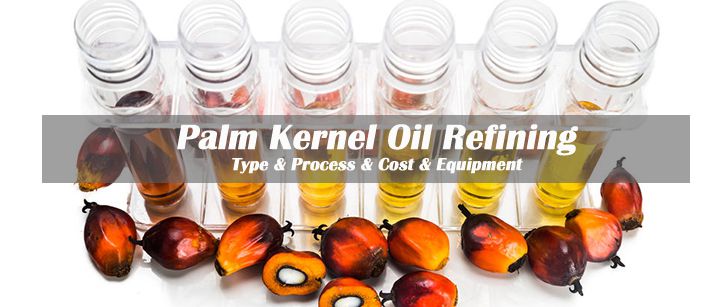 Oil refinery, commonly known as "oil refining", uses physical and chemical methods to remove the solid impurities contained in crude palm kernel oil, like free fatty acids, phospholipids, gum, wax, pigment, odor through a series of Palm Kernel Oil Refining Process collectively, which finally can improve the tasete, quality and shelf-life of palm kernel oil. (Related Post: How to Refined Palm Kernel Oil >>)
Palm Kernel Oil Refining Machine Types & Cost
ABC Machinery is the reliable palm kernel oil refining machine manufacturer and supplier in China. We manufactures and exports premium quality Palm Kernel Oil Processing Machine for domestic and overseas markets. We offer tailor-made palm kernel oil refinery machine to meet clients' requirements. The daily capacity of palm kernel oil refining plant we can supply ranges from 1TPD ~ 1500TPD. The palm kernel oil refining machine ABC Machinery supply cansave more than 40% of decolorized clay and reduce the loss of neutral oil by about 60% and there are no waste water generated in the production, so users do not need to invest in waste water treatment equipment, which greatly reduces the investment cost. (You may also like: Palm Oil Refinery Plant Cost >>)
Palm Kernel Oil Refining Plant Types

Batch Type Palm Kernel Oil Refining Plant
Batch type oil refining plant is designed for Small Scale Palm Oil Mill Plant. It has many outstanding features, including low investment cost, wide application, small and compact size, full functions, etc. The typical capacity is about 1TPD ~ 20TPD.
Semi-continuous Type Palm Kernel Oil Refining Plant
This type oil refining plant is more suitable relatively Large Palm Kernel Oil Processing Plant. It is more efficient and relatively continuous. But, the cost is relatively higher. The typical capacity is about 10TPD ~ 50TPD.
Continuous Type Palm Kernel Oil Refining Plant
If the budget allows, a palm kernel oil refining plant that is above 30TPD, usually chooses continuous process. The investment cost may a little higher, but for large scale palm kernel oil processing plant, it is also the cost-effective choice. The typical capacity is above 30TPD.

Our experienced professionals engineers and skilled workers will provide whole worry-free service for your palm kernel oil refinery machine, from the stage of designing, manufacturing to the stage of erection, on-site commissioning and maintenance. Choose us, you will own a cost-efficiency palm kernel mill! We are always at your side!
Palm Kernel Oil Refining Machine Cost
The exact cost of a palm kernel oil refining plant is decided by various factors, including capacity, oil refining process, equipment, etc.. In today's market, a 1TPD mini palm kernel oil refining plant may cost about $21,000 or higher. If you are planing to start palm kernel oil production business and want to more details such as customized project plan, equipment list and price, production cost or construction details, don't hesitate to contact us!
Palm Kernel Oil Refinery Process
In order to get the pure and qualified oil, crude palm kernel oil extracted by Palm Kernel Oil Extraction Machine should be refined through a series of refinery process. The typical process of palm kernel oil refinery includes degumming, deacidification/neutralizing, decolorizing/bleaching, deodorizing, fractionation. (Related Post: Small Scale Palm Oil Refinery>>)


Palm Kernel Oil Refining Process
The process of removing colloidal impurities from crude oil by physical, chemical or physicochemical methods is called degumming. If the content of phospholipids in palm kernel oil is high, it is easy to bubble, smoke, smell when heating. And the phospholipids in high temperature will make the oil in brown due to oxidation,which will affect the flavor of fried food. Degumming is based on the principle that phospholipids and some proteins dissolve in oil in the state of sewage, but are insoluble in oil after the formation of hydrate with water, adding hot water or water vapor to the crude oil, heating the oil and stirring it at the temperature of 50℃, then standing stratification, separation of water phase, phospholipids and some proteins can be removed. (Related Post: Physical and Chemical Refining of Crude Palm Oil >>)
Free fatty acids affect the stability and flavor of oil. Free fatty acids can be removed by adding alkali and neutralization, which is called deacidification or alkali refining.
crude palm kernel oil contains pigments such as chlorophyll and carotenoids. Chlorophyll is a photosensitizer that affects the stability of oil, while other pigments affect the appearance of oil, which can be removed by adsorbent.
The smell of oil is not very good, which affects the storage and selling price of oil, so we usually use direct steam to remove the smell of oil; The oil also contains 0.5% water, which is removed by the heat in the deodorizer tower.
It is the special treatment of palm kernel oil. The process is to cool the palm kernel oil to 45 ℃ or so and to keep required time, and the composition of high melting point and crystallization will precipitate. Then, after the secondary filtration, the palm kernel oil can be processed into three different products of different melting point after fractionation. These three products are palm stearin melting point higher than 40℃, palm soft fat melting point of about 30℃ and liquid palm oil melting point of less than 20℃. The yield of these three products is approximately 20%, 30% and 50% respectively, among which the quality of liquid palm oil can reach the standard of advanced cooking oil. (Related Post: Palm Oil Fractionation >>)

Palm Kernel Oil Refinery Plant Project
We provides complete set of machinery for palm kernel oil refinery plant, including mini small oil refinery line, medium oil refinery plant and large turnkey oil refinery project. Recently, we have 10TPD Palm Kernel Oil Refining Machine and 20TPD Palm Kernel Oil Refinery and Fractionation Plant ready for shippment to Nigeria. And soon, our enigeers will go to Nigeria to take charge of the installation, commissioning and traininig, helping our customer to quickly run their palm kernel oil refinery plant successfully. If you are looking for palm kernel oil refinery equiment, please email for models and latest prices!
Advantages of Palm Kernel Oil Refinery Machine
It can remove the most of phospholipid from the oil by extending the reaction between phospholipid acid and oil, and adding special additives.
Fully automatic ration system of bleaching earth ensure the quality of oil.
Complete vacuum refining technology requires less investment, but produce high quality oil.
The filtration of decolored oil goes within the stainless steel leaf filter, which minimizes the oil of cake.
Oil filter, equipped with automatic control system, is easy to operate and ensure stable oil filtration.

Palm Kernel Refinery Machine List
The basic equipment of palm kernel oil refinery plant includes refining pot, degumming pot, decolorizing pot, deodorizing pot, FFA catcher, water pump, white earth, heat exchanger, oil filter press machine and so on. Surely, the specific machines will have a little different based on the capacity and refinery process.

Palm Kernel Oil Refinery Equipment Ready for Shippment
Our company provide various types of palm kernel oil refinery machine to customize different oil processing capacity. We ensure the best quality and best price. If there are any needs, please email us!