Introduction of Palm Kernel Oil Expeller Machine
Technological advances surprise us with a new innovation every day. Such is the palm kernel oil expeller machine. Palm kernel oil expeller machine, also called as palm kernel oil press or palm kernel expeller machine, has been carefully designed by technologically advanced professionals to extract palm oil from its kernel and to produce another product - the palm kernel oil cake. Palm kernel is mechanically crushed to produce oil and subsequently its cake, which is rich in palmitic acid and nutrients such as magnesium, protein, iron, zinc and fiber. The cake is used as animal feed, for animals such as cows, poultry, horses and sheep.


Extraction Steps of Palm Kernel Oil Expeller Machine
The Palm Oil Kernel Expeller goes through step by step procedures for palm kernell oil extraction. These are:
Pre-treatment (including cleaning)

Grinding

Flaking

Steam-conditioning

Screw-pressing
These steps are involved in processes that have been sub-categorized as well, namely:
The complete pre-treatment process, which involves all steps named above, from cleaning to screw-pressing and is done in high capacity machines.
The partial pre-treatment process, which involves break-down and grinding of the kernels only before screw-pressing. The machine is also designed to cook the kernels, to further expel the oil.
Direct screw-pressing, which involves crushing and screw-pressing of the kernels only. In this phase, double pressing is done to ensure complete oil extraction and a low amount of residual oil in the cakes.
The palm kernel oil that has been extracted is not necessarily clean. It still has some solid impurities that need to be removed before storage and transportation. After screw-pressing, the palm oil is passed through a cistern and then pumped to a decanter. The palm kernel oil is further pressed in a process called filter-pressing to remove fine and stubborn solids still present in the oil. After this, palm kernel oil is cooled and released for storage.
What are the Benefits of Using the Palm Kernel Oil Expeller?

I. Ease of extraction.
Extraction of palm oil from its kernel is not an easy feat. The palm kernel oil expller machine eases this process with its advanced extraction technology, efficiently producing clear oil.
II. Cost-friendly
Purchase of palm kernel expeller machine and palm kernel oil expeller machine is done at a low cost, meaning they are inexpensive. Furthermore, they consume less power, hence lowering electrical costs. This is also an advantage it boasts compared to other machines that are high energy consumers. Installation of these machines is easy and also done at a low cost.
III. Maximum productivity
The capacity of the palm kernel oil expller machine allows them to produce a large amount of oil every day, owing to the short period of time the machine takes to produce oil every day.
IV. Hard body
The main structure of palm kernel oil press expeller machine is made up of alloy steel and its screw shafts are well tested for efficiency. In addition, the machine has heavy duty bearings that enables them to bear the weight of the palm kernels and reduce as well as prevent any possibilities of wear and tear, both internally and externally.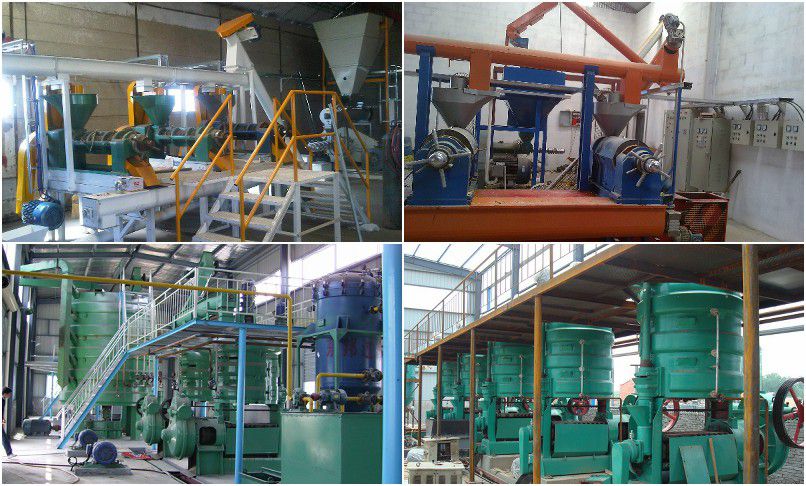 In conclusion, if you are looking for an efficient palm kernel oil extraction machine for maximized use that meets standard qualities, then the palm oil expeller machine, palm kernel oil expeller machine and palm kernel oil press provided by our company are your best choice. We promise high quality and large production capacity for all our palm kernel oil expeller machines. If there are any needs, please contact us for more detailed information.
I want a palm kernel refinery machine that can handle 5-30 tones a day . The product will be installed in Nigeria.
Hi, Thanks for your enquiry. As for your request, do you have crude palm oil already, could you advise what's the index of the oil, such as the color, acid value, moisture content, etc.
Besides, 5~30TPD capacity is very big range, could you kindly specify it a little.
OR tell me your current pressing capacity, or your budget for this refinery system, so we could suggest and quote for you accordingly.
I am interested in one complete set of Palm kernel oil extraction machine .. Please include quotation of a smaller size. Thanks. - from Liberia
Could you please inform the capacity(kg/h) you need according your palm kernel? Then i advise you the suitable oil press machine type.
I need a capacity of 5 to 6 tons/24hours. Hopefully a complete set including the cracker.
Because the oilseed is palm kernel, the oil content is high. According to the oilseed we advise you use the YZS-105 oil press machine with capacity 5-7TPD. The detailed quotation of the palm kernel oil press was send to your email for your reference.