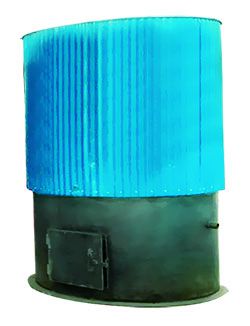 The palm fruits cooking and sterilizing tank is widely applied in small palm oil processing plant, also known as palm fruits cooker, sterilizing pot, or sterilizer. It composed of a cylindrical cylinder and a tank bottom, and also equipped with fruit basket. For intermittent operation, 2-4 groups of cooking and sterilizing tanks can be arranged according to the output, so as to continuously operate. The cooking and sterilizing tank is self-contained with an open flame heating device, and the fuel can be applied to wood burning coal and liquefied gas, etc.
In the sterilizer, the palm fruits are subjected to high temperature cooking for about 60 minutes by hot water (about 100 ℃) to destroy the lipase in the fruit to avoid the increase of free fatty acid content in the oil. In addition, high temperature killing can make the fruit soft, which is beneficial to the subsequent shelling of the core and reduce the damage of the kernel.
We can offer customized palm oil manufaturing businss plan, including mini palm oil mill and small palm oil milling factory. Just feel free to send an inquiry if you are interested to get detaild project cost and equipment price.
| MODEL | CAPACITY (T/H) | Volume (M³) | VOutline Size (mm) | WEIGHT(kg) |
| --- | --- | --- | --- | --- |
| ZZG160 | 1 | 3200 | 16600x2600 | 1450 |
| ZZG180 | 1.5 | 4000 | 1800x2600 | 1840 |
| ZZG200 | 2 | 5000 | 2000x2650 | 2160 |
| ZZG220 | 3 | 6000 | 2200x2680 | 2260 |