ABC Machinery - Palm Kernel Oil Processing Machine Manufacturer in Malaysia
If you are going to buy palm kernel processing machine for Palm Oil Processing Plant to start palm kernel oil production business. Where you can get the best processing machines in Malaysia? ABC Machinery, the leading machinery manuafactuer in palm oil processing sector, is the BEST choice due to its high quality machinery, competitive cost and overall service. Besides, ABC Machinery strive continuously to improve the technology of palm kernel oil extraction for maximized oil output, which promising the most advanced Palm Kernel Oil Processing Machine to customers. (Read More: Business Plan for Palm Kernel Oil Production >>)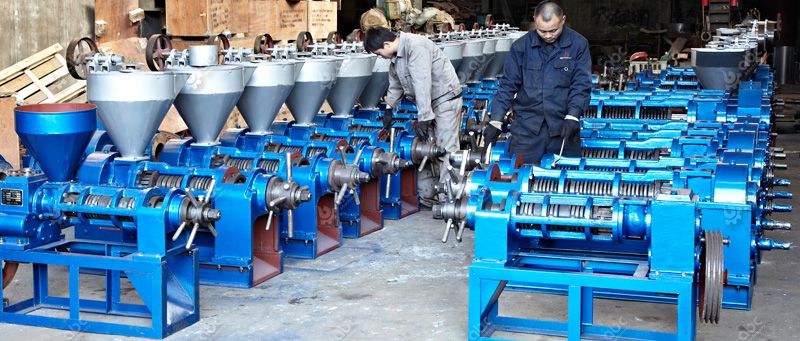 ABC Machinery Factory

Buy Palm Kernel Processing Machine in Malaysia
Palm kernel oil processing machine is the equipment to extract palm kernel oil from the palm nut. Among all these equipment, Palm Kernel Oil Expeller is the core machine to extract oil out through mechanical pressure. Palm kernel oil expeller machine is suitable for small farmers or small orchard, small palm oil mill plant due to its fast cost recovery, compact size, high oil output, etc. Palm kernel oil expeller is very popular among customers in Malaysia, Indonesia, Nigeria, Liberia, Cameroon, Ghana, etc.

Small Palm Kernel Oil Expeller Parameters
Model
Capacity
Power
Outline Dimension
Weight
YZS-85 Small Oil Press
60-80kg/h
5.5Kw-4P
120*400*900mm³
260KG
YZS-95 Small Oil Press
150-200kg/h
(7.5-11)Kw-6P
1600*700*1350mm³
530KG
YZS-105 Small Oil Press
210-300kg/h
15Kw-4P
1850*700*1350mm³
580KG
YZS-128 Small Oil Press
300-375kg/h
15Kw-6P
2000*800*1170mm³
720KG
YZS-130 Small Oil Press
450-500kg/h
18.5Kw-6P
2010*800*1380mm³
820KG
YZS-150 Small Oil Press
750-850kg/h
30Kw-6P
2180*790*1790mm³
1060KG
Buy Single Palm Kernel Oil Expeller
Palm kernel oil expeller can be used alone to process the palm kernel. Also, it can be used along with other equipment, such as cooker, crusher, etc. If the required capacity is relatively small, it is avaliable to use a single machine.
Buy Compelet Set of Palm Kernel Oil Processing Machines
But, if the required capacity is relatively large, it is highly recommended to buy a complete set of palm kernel oil processing machines to form a Palm Kernel Crushing Palnt, including palm kernel crushing and separation machine, palm kernel cleaning machine, palm kernel steaming and frying equipment, palm kernel oil expeller press, palm kernel oil filter machine, and palm kernel oil refining machine. (Related Post: Palm Kernel Oil Extraction Machine in Nigeria >>)
Why Choose ABC Machinery?
ABC Machinery is specialized in manufacturing palm oil processing machine. Our palm kernel oil processing machine has been exported to the world's largest palm oil producers, Malaysia and Indonesia. With years of experiences in this sector, we are able to provide inimitable processing machinery to enhance your business. Besides, we have a group of senior engineers and experts for onsite construction, commissioning and technical consultancy. Therefore, we are your best choice to buy Malaysia palm kernel processing machines! If there have any needs, please tell us.


Mini Palm Kernel Oil Processing Plant Malaysia
The palm kernel processing machines developed by ABC Machinery demonstrate strong oil processing capability and stable continuous operation. It is able to extrude oil from a wide range of edible oil seeds, including peanut, sunflower seeds, coconut, castor beans, mustard, cottonseed, pumpkin seed, grape seed and more, which makes it perfect for all mini oil processing plant and large oil mill. It utilizes advanced mechanical screw pressing method to maximize the oil output. So, it features wide application, high yield, less maintenance, continuous operation and energy-saving.

Palm Kernel Oil (PKO) in Malaysia
Malaysia is one of the largest palm oil and palm kernel oil producer in the world. It now accounts up to 39% of worlds' palm kernel oi and palm oil production. And, about 44% of worlds' palm oil and palm kernel oil are imported from Malaysia. In a word, Malaysia takes an important role in the worlds' palm oil industry. It is definitely profitable endeavor to have
Palm Oil Processing Plant in Malaysia
.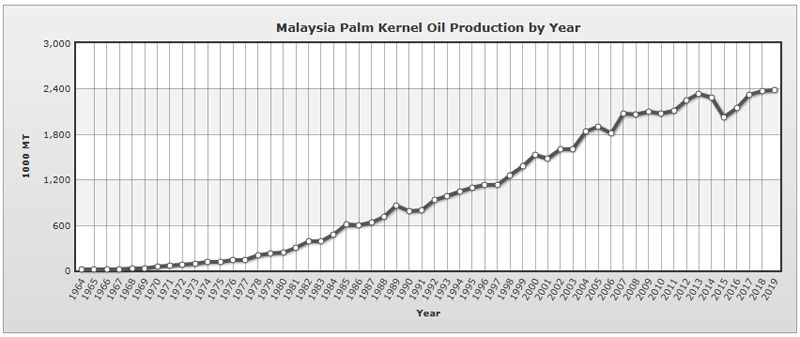 Malaysi Palm Kernel Oil Production by Year
We need a Palm Kernel Oil Processing Machine that can crush minimum of 2.5 tons per day. We will appreciate the detailed description of the machine and the cost including freight to Nigeria.
Hello, sir. Detailed machine parameters have already sent to you. Please check your email inbox. Every year, our enigneers and sales team will visit Nigeria. Please contact us directly to get the opportunity to discuss palm kernel oil processing with them face-to-face.
May i have cataloge of your pko refining machines. Detailing capacity, space required, effeciency, and price. Thanks.
Hello, sir. The PKO Refining Machine capacity ranges from 1tons per day to 400tons per day. Generally, the small palm kernel oil refining plant ranges from 1TPD to 30TPD. The price differs from the capacity and other factors. We also provide customized palm kernel oil refining machine. Detailed parameters of palm kernel oil refining at How to Refine Palm Kernel Oil (PKO).