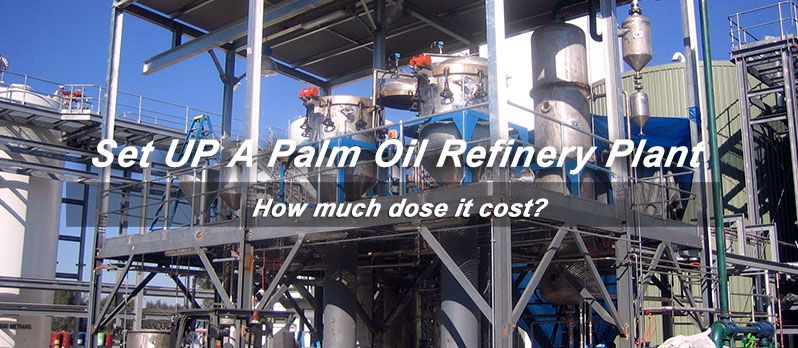 Palm Oil Refinery Set Up Cost
The cost to start and operate a palm oil refinery plant covers a lots of aspects. ABC Machinery, as a reliable and professional manufacturer and supplier for palm oil processing machinery and palm oil refining equipment, will tell you how to calculate the cost of running a palm oil refinery plant.
Cost of Setting Up A Crude Palm Oil Reinery Plant
The cost of establishing a crude palm oil refining factory includes equipment investment, shipment cost and construction cost.
Oil Refinery Equipment Cost
For the equipment cost, different refining process design, different capacity, different equipment, different price. If you want to know the exact price of palm oil refining equipment, welcome contact us and tell us your capacity needs, then we can offer customized equipment unit and detailed quotation. As an experienced manufacturer of palm oil machine, we will help you choose the best refining process and equipment according to your processing capacity and your budget.


Small Unit of Palm Oil Processing Machine for Small Refinery
Classification of Palm Oil Refinery Machine
Small Scale Refinery (1-20ton/d production)
Medium Scale Refinery (20-50ton/d production)
Large Scale Continuous Refinery (50-1000ton/day)
Transportation Cost of Palm Oil Refinery Machinery
You should know that the transportation expense fluctuate over time. Contact and tell us your location, then we can help you calculate the shipment cost to your factory.
Cost of Installation and Commissioning
For medium and large scale refinery plant, onsite installation and commissioning service is offered. It includes the cost for project engineer sent by the equipment manufacturer and the cost for construction workers hired locally.
Palm Oil Refining and Fractionation Process
There are two common methods of palm oil fractionation and refining: one is fractionation first, then refining, the other one is refining first, then go through fractionation process. The general crude palm oil refining process is: decoloration, deacidification, deodorization, then continue bleaching to get refined oil (melting point 33- 39℃) which is known as 33℃ Refined Palm Oil.
Palm oil fractionation process: after cooling in the fractional distillation tank, the upper for liquid 24℃ OLEIN (24℃ refined palm oil), the bottom for 44 ℃ solid refined oil (expensive), the output ratio is 75% for 24 ℃ palm oil and 25% for 44℃ palm oil. Then go through pressure filtration in frame filter press. When producing 24℃ palm oil, set the room temperature to 24℃ with 6-10 atmospheric pressure. The liquid oil flow out ant the solid oil landed from the plate and frame. The whole refining process consumes 1.5-1.8%, and the refining cost is about $30 per ton (crude oil).
If you are planing to start your palm oil refining business, you could contact us for more details about the palm oil refining machines and the project cost of a palm oil refinery plant. please send you questions and needs directly, we will answer as soon as possible.
Production Cost of Palm Oil Refinery Plant
If you are planning to establish a crude palm oil refinery factory. You must be wondering how to calculate the operating cost. Following is the detailed analysis of Operating Costs of Palm Oil Refinery Plant: Any qestions about palm oil refining or need help on making a customized business plan, don't hesitate to get in touch with us!
Plantation maintenance Cost: It includes three aspects: annual cost of fertilization, irrigation and labor for harvesting fruit.
Transportation Cost: It includes the price for transporting the fruit bunches to a palm oil refinery plant.
Oil Refining Cost: It is estimated that the labor costs assuming 2 workers at min. wage and a skilled operator at a higher wage. These costs are determined by the hours of operation.
Electricity Cost: If the electricity power to run palm oil refinery machinery is obtained from local electricity plant and the costs are calculated from the hours of operation. The estimate does not consider the possible increases in power consumption as a result of equipment getting older but the power required to heat machine components prior to production is considered. If the electricity power is supplied by the palm oil refinery plant itself, then the cost may reduce greatly.
Fuel Cost: The fuel cost is proportional to the number of operational days.
Machinery Maintenance Cost: According to senior engineers that it is estimated that the annual maintenance costs on palm oil processing machinery is as 3% of startup cost of the system. Normally, the machinery maintenance depends upon the time the machine is operated. Please note that this analysis doesn't consider extra machinery downtime in case of larger machinery repairs.
Machine Replacement cost: Generally, palm oil processing machines have a lifetime of approximately 10 to 20 years, operating in 8 hour shifts daily. In the worst case, the palm oil production equipment may need replace entirely every 10 years, but it depends on. So this cost is varied.
Fluctuations in Prices : The fruit bunches and crude palm oil prices are changing every year, so it could also have a impact on the cost of a palm oil refinery plant.
Please note that the palm oil refinery plant cost estimation doesn't include insurance: the insurance requirements on operating a palm oil refinery plant is different, so it is not included in our cost estimation.
To conclude with, although the above palm oil refinery plant cost estimations are made with a thorough testing, it may have little difference in real life.
How to Reduce Palm Oil Refining Cost?
The cost of palm oil refining is the result of a combination of many factors. Investing in palm oil refinery or palm oil mill plant projects is to gain more revenue. Next, ABC Machinery, the professional palm oil mill machinery manufacturer, will give you a brief summary of reducing palm oil refining costs.
Speed Up the Refining Rate
The refining rate is the main factor affecting the refining cost, which is closely related to the crude oil quality, refining process and refining operation.
Reduce the Consumption of Auxiliary Materials
Auxiliary materials include liquid alkali, phosphoric acid, citric acid, clay, diesel oil, the same oil, using different operating methods, can meet the standards of the product, should be in the process of looking for a lower consumption of auxiliary materials.
Reduce Energy Consumption
During the palm oil refining process, it should avoid the energy waste, including water, electricity and gas consumption.
In addition, reducing the labor cost and strengthening the production management can also help to reduce the total cost of palm oil refining plant.
10 TPD Palm Oil Refinery Plant Under Construction
This is a crude palm oil refinery project built for one of our client. It is designed for 10 ton/day refining production.
We Want to establish 3TPD palm oil refining factory in Nigeria. Therefore,we request for your quote on oil press and 3TPD refining line.
Tks for your enquiry to our products. As for your request, is your raw material palm fruit, palm kernel or crude palm oil...? Do you want both pressing and refinery plant, pls clarify clearly.