ABC Machinery has strong resources in palm kernel oil refining. We can provide mini or small palm kernel oil refinery equipment for home use or small refining plant use. At the same time, we are also an expert in large palm kernel oil refining turnkey projects. The refining capacity ranges from
10 TPD to 1500 TPD
.
How Crude Palm Kernel Oil is Refined?
Crude palm kernel oil should be refined for wide application in other industries. The basic refining process for crude palm kernel oil includes degumming, deacidification, decoloring, deodoration and
fractionation
. So, what's the function of each process? What details should be paid more attentions? And, what's the specific equipment it will used? See Also:
Palm Kernel Oil Refinery Plant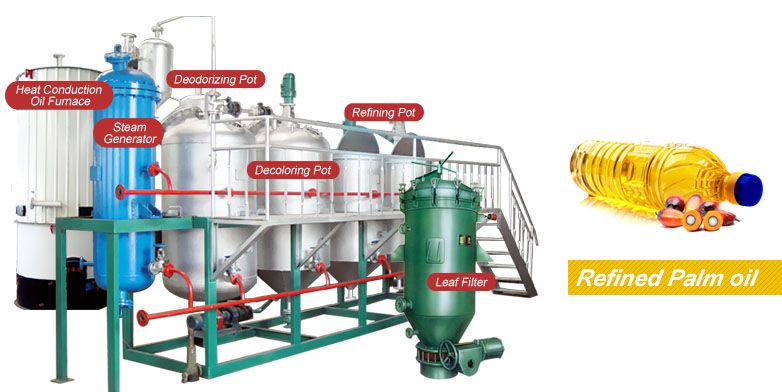 Process of Palm Kernel Oil Refining
The main content of palm kernel oil is glyceride. But just like other oils and fats, it also contains part of nonglyceride components. And the nonglyceride can be divided into two main parts: non oil-soluble impurities and oil-soluble impurities. The non oil-soluble impurities mainly refer to fiber, shell and free moisture. And, the oil-soluble impurities are free fatty acid, phospholipid, microelement, carotinoid, oxide, tocopherol and more. The refining process is to remove these impurities and maintain more beneficial components, further turn the crude palm kernel oil into qualified edible oil. The refining process we provide is as below.
Physical refining
Crude PKO, degumming, decoloring, filtration, pretreatment oil storage tank, distillation, luster processing, cooling, storage
Chemical refining
Crude pko, degumming, neutralization, washing, drying, filtration, pretreatment oil storage tank, deodorization, fractionation, cooling and storage.

The process of palm kernel oil refining decides the quality of red palm kernel oil. We have gained rich experiences in this field. Our aim is to provides the
cost-effective oil refinery equipment
to minimize the production cost. At present, we have built many
palm kernel oil refining lines
and plants, most in Indonesia, Malaysia, Ghana, Nigeria and Liberia. Besides, we also supply small scale refining equipment for home oil refining or small scale workshop.
If you have any interests, please contact us for more details
.
Hello, I am interested in buying Mini Palm Kernel Oil Pressing Line and Mini Palm Kernel Oil Refining Line, Can you kindly give me all necessary information, including cost.
Thanks for your inquiry. Please let me know what is the capacity do you need of the small oil pressing line? How many raw materials do you want to process in one hour? How about local 3phases electricity?--V?--Hz? So, we can design and quote you accordingly.