Project Report - 20TPD Palm Kernel Oil Refining and Fractionation Plant in Nigeria
Country: Nigeria
Capacity: 20 tons per day
Raw Materials: Crude Palm Kernel Oil
Equipment List: Continuous Oil Refining Plant, Fractionation Machine, Oil Storage Tank, Oil Filling Machine, Lab Instrument, etc.
This 20TPD Palm Kernel Oil Refinery and Fractionation Plant was successfully installation in Nigeria. It is mainly used to process the crude palm kernel oil. The degumming and deacidification process is batch and the deodorization process is continuous. And the fractionation process is designed with PLC control. This medium scale palm kernel oil refinery plant is also equipped with lab instrument and automatic oil filling machine. (Read More about Palm Kernel Oil Refining Process >>). If you are interested in knowing more about the total cost of the whole palm kernel oil refining project. please contact us directly.
Palm Kernel Oil Refining and Fractionation Machine Field Installation
Below are the main pictures taken when the palm kernel oil refining machine was installed. Our engineers was totally take charge of the whole installation process to ensure the construction and commissioning. In addition to palm kernel oil refinery plant, our compnay have also exported many Palm Kernel Oil Extraction Machine in Nigeria.

Palm Kernel Oil Fractionation Knowledge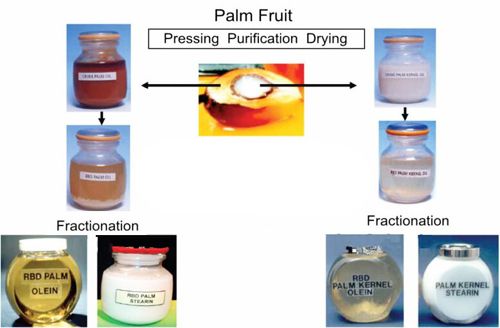 Palm kernel oil fractionation process can produce different palm kernel oil products at different melting points, including 8℃, 10℃, 14℃, 18℃, 24℃, 33℃, 44℃, 55℃, which greatly increase the added value of palm kernel oil and increase the economic benefits of Palm Kernel Oil Factory in Nigeria.
ABC Machinery adopts advanced crystallizing equipment, filtration and pressing technology and accurate automatic temperature control software, which is synchronized with the world's advanced level and specially suitable for palm kernel oil fractionation. By controlling the crystallization rate, crystallization temperature, crystallization time and other technological parameters, the filtration mode was changed. This process is suitable for the fractionation of cottonseed oil, fish oil and other animal fats.
Main Palm Kernel Oil Fractionation Equipment: Crystal Tank, Water-cooled Screw Chiller, Diaphragm Press Filter, etc
Palm Kernel Oil Fractionation Process: Heating -- Cooling -- Sstirring -- Crystallization -- Filtration
Our company provides the design, manufacturing, installation, commissioning and after-sales service of palm oil processing, palm kernel oil extraction, palm oil refining and palm oil fractionation. If you are interested in, please contact us directly to get more details about our projects.