Our Malaysian customer has ordered this 100TPD palm fruit oil refinery plant, including the services of process design, factory layout and equipment selection. Here is the shippment report. If you have any question about palm oil refinery plant, welcome you to contact us to tell us your requirements, let us help you to setup your palm oil refining business plan. (Related article: cost of building a oil refinery plant in Malaysia>>)
Project name: 100TPD palm oil refinery machine plant
Project Location: Malaysia
Raw Materials: crude palm fruit oil
Project Process: Degumming, deodorizing, decolorizing, dewaxing and fractionation
Customer Background: This consumer is from Malaysia, and the area where the customer is located has many fresh palm fruits, which belongs to the palm oil producing area. His ordering palm oil refining machine is to produced refined palm fruit oil for sale.
100TPD Palm Oil Refinery Machinery Delivering Site Display
100TPD Palm Oil Refinery Plant Process Design
Palm oil is widely used in cooking and food manufacturing throughout the world. Palm oil that has undergone the following refining processes has a higher quality and can be used as edible oil, ghee and margarine. (Related article: palm oil refining process flow chart>>)
Degumming and deacidification process: The palm oil degumming and deacidification process uses water washing to separate the soap scum from the oil blend in preparation for the next step of palm oil decolorization.
Decolorization process: The palm oil decolorization process is mainly used in the palm oil refining process to remove oil pigments, residual soap and metal ions.
Deodorization process: The palm oil deodorization process plays an important role in improving the quality of the oil after processing of the wool palm oil.
Palm oil fractionation: The palm oil fractionation process is used to separate palm olein and palm stearin concentrate from the palm oil processed after the process above to obtain different grades of palm olein and palm stearin.
For more information about palm oil refining details, you can contact us now, we are always here for you!

Start Your Palm Oil Refining Business with Low Cost in Malaysia
Malaysia is one of the world's largest producers of palm oil and palm kernel oil. Furthermore, due to the greater concentration in the Malaysian palm oil industry and higher cultivation and crushing technology, the oil yield from Malaysian palm fruits is generally higher than that of palm fruits from other countries. As a result, approximately 44% of the world's palm oil and palm kernel oil is imported from Malaysia, which plays an important role in the world's palm oil industry. This is why so many people want to buy palm oil refineries and refine their crude palm oil in Malaysia. (Related article: palm oil production in Malaysia>>)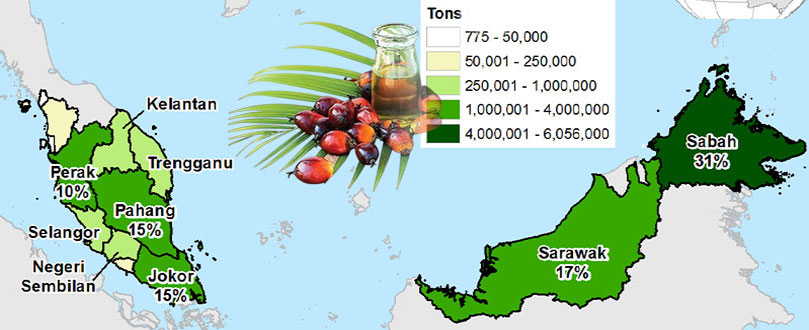 Plam Oil Production in Malaysia
With the deeper process of economic globalization, the development of international trade has entered a new era. ABC Machinery is a leading palm oil refinery manufacturer in China with its own equipment processing plant, R&D team and professional sales staff to provide advanced and professional palm oil refinery turnkey services. More importantly, our palm oil refineries are exported to Indonesia, Nigeria, Congo, including Malaysia, with excellent quality and at competitive costs. In addition, we are constantly improving our palm oil refining technology to maximize palm oil production, thereby minimizing costs and maximizing profits for our customers. (Related article: crude oil refinery plant cost >>)
Factory Price Palm Oil Refining Machine for Sale
ABC Machinery is professional manufacturer and supplier offering the factory price palm oil refining machinery and low-cost complete solution for palm oil refinery business. To meet the needs of a wider range of customers, we have developed three types of palm oil refinery plants with different outputs depending on the level of automation, namely small batch refining plants, medium batch refining plants and large continuous refining plants. (Read more: palm oil refinery manufacturer>>)


From Left to Right: Mini, Meduim and Large Scale Palm Oil Refinery Plant for Sale
Since its establishment, ABC Machinery has adhered to the concept of people-oriented and customer-oriented, and its products have been exported to more than 50 countries and regions such as America, Europe, and Africa. We will always be committed to providing customers with customized solutions, to build the bright future with you!