Our group is specialized in palm oil production machines, including fully palm oil mill plang and palm kernle oil extraction plant. We are reliable palm oil machinery manufacturer in China. You are welcome to visit our website (palmoilmillplant.com) for more information abot our company and equipment. Feel free to get in touch with us for details and customized designs about palm oil processing business plan.

Successful Turnkey Business Plan of Palm Oil Processing
---
Palm Oil Processing
There has been a lot of research on the making and extracting of palm oil in the world the disciplines which were most helpful were the biochemistry, mechanical and chemical engineering.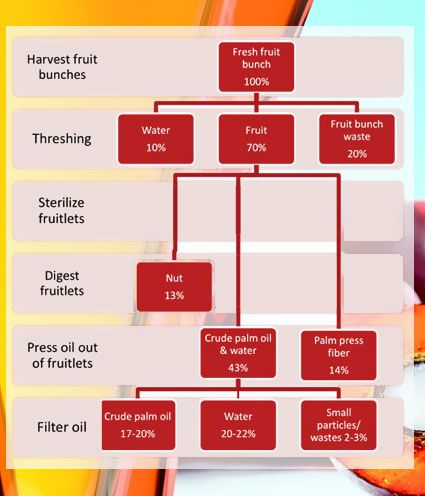 Crude Palm Oil Processing Plant
A large number of palm tree jungles in the most parts of the world provided the base needed to experiment the extracting procedure of the palm oil. The palm fruit is brought into the factory and each fruit is separated and then all the fruits are together smashed and crushed to get the crude palm oil which is then processed in several steps to become edible. The demand for palm oil has been increased in the worldwide which is why the oil should be produced with international standards for different companies and countries to keep exporting the oil to different countries and places.
To produce palm oil on the large scale the factories are required to have some big machines which can handle the fruit and oil better and can produce huge amounts of oil without any wastage of the oil in any manner. The machines designed to handle palm oil can handle up to 60 tons of oil at a time. There are boilers used which are used to generate steam which can produce electricity through the turbine generator. The steam is then used for heating purposes all over the factory. Most of the factories have automatic control system through which the machines run without stopping and this if efficiently operated can result in huge amounts of oil produced from a bunch.


Palm Oil PressingMachinery (Screw Press)
Red Palm Oil Refining Plant
The crude palm oil conversion to the edible oil is required to remove some of the materials which are not for human use and which cannot be eaten. The processes which are used to remove these materials are hydrolysis and oxidation. This phase in the palm oil processing business plan also changes the color and flavor of the oil a bit to make it easier for intake. After that, the pure liquid oil is separated from the mixture produced. This is done by different ways such as crystallization, cooling, and filtering. The oil than produced is ready to be used and exported into the markets. Palm oil produced by this method are highly demanded and it competes in the market for sunflower, corn and groundnut oils etc. The high-quality palm oil is considered the best of them all.

Refining Section of Edible Palm Oil Milling Factory
During the starting process, the crude oil separation is mostly done in the oil mills where most of the oils such as sunflower, Corn etc. are separated from their fruits or flowers. Most of the palm oil mills used for the separation of crude oil are the ones which are used for the extraction of oils from the nuts since they are all of the same kinds and same machines are used for the extraction of these oils. The palm fruit is ground during the process, the small particles are then cooked and heated and the oil is then collected for further processing.
The oil is after that cleared from the small particles left in it by sedimentation. Palm oil processing plant is in itself a very prolonged procedure which has taken the shape of an industry as well in most parts of the world. This industry also growing because of the growing demands of palm oil in the world. It has become a well-established industry.
We are focused in providing turnkey solutions for extensive range of palm oil processing business plan with high industry standard and competitive prices to our valued customers.
I want to start palm oil business which will serve the local and regional market.Can I know what the budget is like for a small to medium scale extraction and processing plant?
Thanks for your enquiry to our products.Is your raw material palm fruit or palm kernel? could you advise what's your desired processing capacity per day?
A small to medium scale plant is too general to give a suggestion and quotation.
We have got 200 acres and we are looking at setting up a small palm oil business.
Q1: Do you export to Australia?
Q2: Lets say I do the lot on site, what do you suggest in equipment and what are your prices.
Hi, Thanks for your enquiry to our products. As for your questions,
A1. Yes, we had export lots of equipments to Australia before, both single machines and complete system.
A2. Pls kindly advise us your desired processing capacity per day or per year. so we could design and quote for you accordingly.
By the way, are you telling me that you're going to build the plant in Australia? What's your purpose of this oil, for cooking or biodiesel, could you tell me more info. Awaiting for your comments.