Supply A-to-Z solutions for small scale palm oil refinery plant depends on your customized demands. Premium equipment for small scale palm oil extraction and crude palm oil refinery. You are welcome to inquire about the cost of the small plant!
Small Scale Palm Oil Refining Plant
Our small palm oil refining plant is the best choice for palm oil refinery with capacity between 1 to 5 tonnes per day. FFA, phospholipids, off-flavor, gums, pigment and other impurities will be removed effectively from crude palm oil or palm kernel oil by our small refinery plant.
Processing Capacity: 1 ~ 5T / D (1~5 tons per day)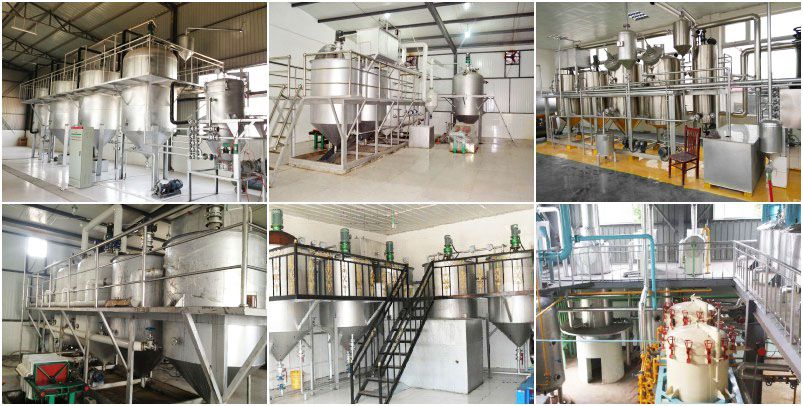 Projects of Small Scale Edible Oil Refinery

Small Palm Oil Refinery Plant Process Flow
Featured Advantages of Our Small Palm Oil Refinery Plant
★
This small unit adopts intermittent refining process.
★
Cost Effective;
★
High automatic, low labor requirement;
★
Small footprint, easy to transport and operate;
This kind of small oil refinery plant is widely applied to edible oil refining including palm oil and palm kernel oil refining. The refined palm oil can meet the quality requirements of national standard grade edible oil.
Quality is always the one of the key factors considered in designing and manufacturing palm oil extraction and refinery plant. For palm oil refinery plant, the three main quality criteria of refined palm oil is low content of free fatty acids, low content of products of oxidation and light color. If you are planning to starting a small palm oil refining business, feel free to contact us for detailed solutions!
Dear Sir, I'm looking for a small scale batch palm oil refining plant with many single units and has the heating system itself which save energy without using boiler for to produce 300-500 kgs/ 8H of Neutralized Bleached and Deodorized palm oil ( grade 1 )
Hi, dear. Thanks for your inquiry of our products. How many hours do you work per day, 8hrs or 24hrs? where did you get the crude oil, by the way? Even for small capacity refinery, you need to use a thermo oil furnance,not steam boiler, is it ok with you?